An overview of the Openreach FTTP setup
Wednesday, October 27, 2010 1:25 AM
The roll-out of Fibre to the Premises (FTTP/FTTH) is no secret following the announcement in July. As we head towards winter, Openreach is talking of product launches and communication providers selling the services as a retail product in the Spring of 2011.
The trials featured two brownfield sites (one where the copper phone network already existed) - Bradwell Abbey in Milton Keynes had extensive ducting, allowing Openreach to test and develop the techniques required for wider deployment, and Highams Park allowed them to trial deploying fibre between telegraph poles. This means that some users taking a FTTP service, will be connected by means of a wire from the nearest telegraph pole to the home or office. It should be noted that while the trials have solely offered FTTP, actual roll-out will most likely be a mixture of FTTC and FTTP in any area.
We have now been able to visit BT in Milton Keynes and see some of the hardware and processes used in deploying FTTP into homes and businesses. A very quick overview of this process is:
Usually five or six properties (maximum 12) connected to one Manifold, which will be underground and no further than 60m from the properties. Each property will have a fibre tube run to it, with the actual fibre (four fibres are run in reality) only being run and the hardware in the property only being installed once you order the service.
Each manifold links back to a larger splitter node via fibre. Each splitter node supporting 32 manifolds.
Each splitter links back to an aggregation point, where multiple splitter links arrive.
The aggregation point uses another larger fibre to link back to the Next Generation Access Handover node. This node need not be in your town/village, since the fibre can be run for some distance.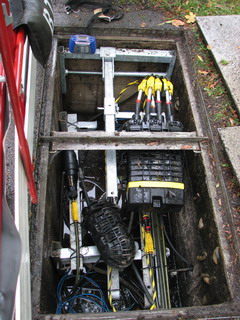 Picture of a chamber showing fibre splitter and manifold.
(Click image for larger copy)
Other than the hardware in the handover node and at the end-point (i.e. your home/office), none of the components are active, thus not requiring mains power (which FTTC cabinets require) and they are also designed to be situated underground. This allows components to be linked using existing ducting or overhead poles. The fibres are run through the ducting by blowing the fibre through newly laid tubes, and while the tubes are relatively strong, to avoid stretching which may result in problems blowing the fibre, this must be all hand pulled by Openreach staff. To give some idea of the timescales involved, currently it takes around 7 hours to do the final install from manifold to customers property. It is therefore easy to imagine a single street with 30 or 40 properties and why when scaled up, FTTP is more costly than FTTC to roll-out.
The situation in the property itself has changed a little since information from the Ebbsfleet trial started. At this time since the fibre is an adjunct to the copper network (which will remain in place) no battery back is provided, and delivering the fibre into the property involves locating a network termination box on the outside of the property, where the fibre from the manifold will terminate, with up to 30m of fibre in a more rugged form that can be situated anywhere in the property so long it is less than 30m from termination box. At the end of this internal fibre cable, the fibre modem requiring mains power will be located. This has an Ethernet port that can be connected to an Ethernet router or direct to a computer. There are further Ethernet ports that will be used for additional services as the product is developed.
High resolution pictures:
Fibre Manifold
Fibre splitter with 32 trays
Manifold and splitter in same chamber
Fibre tube
Comments
Post a comment
Login
Register