BT send out race to infinity e-mail by mistake
Friday, October 8, 2010 10:27 AM
BT have mistakenly sent out an e-mail update showing that 5 London exchanges are leading The Race To Infinity, BT retails scheme to allow its customers to vote for telephone exchanges that should be upgraded to fibre broadband technology. The e-mail was sent as a test of the system.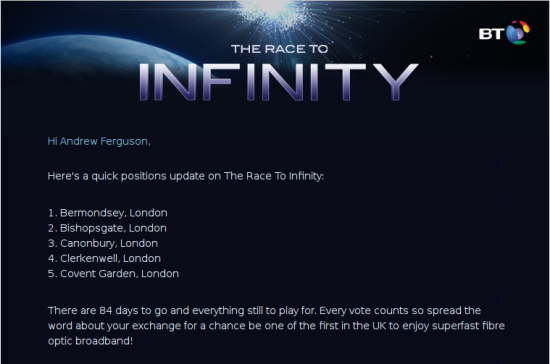 Users should rest assured that the exchanges listed are not those with the most number of votes, they are the first 5 exchanges when listed alphabetically by exchange code. Indeed, Canonbury was enabled for fibre-to-the-cabinet (FTTC) earlier this year in January.
To vote for your exchange, visit The Race To Infinity website.
Comments
Post a comment
Login
Register