UK broadband speeds increase but promise-to-delivery gap widens
Tuesday, July 27, 2010 6:19 AM
Ofcom has this morning published its latest research into broadband speeds which shows that over the last year, the average broadband speed has increased from 4.1 to 5.2Mbps, but worryingly also that the gap between actual speeds and promised speeds (the headline 'up to' speed) is widening.
The study conducted on behalf of Ofcom by Samknows shows that the proportion of UK fixed line residential broadband connections advertised as 'up to 10Mbps' has increased from 8% (April 2009) to 24% (May 2010), as more consumers upgrade their ADSL broadband packages from 'up to 8 meg' ADSL to ADSL2+ services which can run at up to 24Mbps. This increase in speeds is therefore not necessarily showing a significant improvement in infrastructure, but more probably consumers willing to upgrade due to lower prices or greater demands.
This increasing gap between the advertised speeds and actual throughput is caused primarily by the fact most people in the UK receive their broadband service through the phone line using ADSL technology, which suffers from interference and signal degradation which gets worse, the further away you live from the telephone exchange. Whilst faster up to 24Mbps services are available, very few will receive these top speeds and most will only see a fractional increase in their broadband speeds.
Those lucky enough to live in areas covered by Virgin Media's cable broadband however have another option—Its services are provided using different technology which does not suffer from the same signal problems related to distance. By using fibre-to-the-cabinet (FTTC) in 50% of the country, it is able to deliver an average speed of 8.7Mbps on its 10Mbps package and 15.7Mbps on its 20Mbps products, representing 87% and 79% of the headline speed respectively, whilst ADSL-based alternatives were delivering a fraction of this.
"Ofcom's broadband speeds report again proves Virgin Media is consistently more than twice as fast as any of our DSL competitors [..] It's clear that our DSL competitors just aren't keeping up with their promises of 20Mb broadband. No DSL customer receives 18Mb, only 2% are receiving more than 14Mb and, on average, DSL providers are delivering just 33% of their advertised 'up to 20Mb' speed. We need to ensure people are not being ripped off and the lack of transparency in broadband advertising risks damaging consumer confidence in superfast broadband. The Advertising Standards Authority has announced a review into the way broadband is advertised and the need for change is now urgent."

Jon James, executive director of broadband, Virgin Media
The comparisons used by Ofcom for ADSL/cable are not exact as the headline speeds used by each vary with ADSL focussing often on '8 meg' and '24 meg' due to technological standards, whilst cable services are advertised as '10 meg', '20 meg' and '50 meg', however whichever measurement is used, ADSL is significantly more variable in performance:
| Headline ("advertised") speed | Average actual speed | Average-to-headline |
| --- | --- | --- |
| 'up to' 8/10 Mbps ADSL | 3.3Mbps | 33-41% |
| 'up to' 20/24 Mbps ADSL | 6.5Mbps | 27-33% |
| 'up to' 10 Mbps cable | 8.7Mbps | 87% |
| 'up to' 20 Mbps cable | 15.7Mbps | 79% |
"Virgin Media's 'up to' 10Mbit/s and 'up to' 20Mbit/s cable services delivered average download speeds around twice as fast as DSL packages with the same or similar headline speed.

The cable broadband service on average delivered higher download speeds at all times of the day than comparable DSL services, however it showed a greater slowdown during peak periods than some DSL providers."

Ofcom
It is worth noting that obviously ADSL coverage being near double the footprint of  Virgin Media's cable network is a significant factor in these averages being low as it's the only widely used technology available to those outside cable areas. Of course, wireless, mobile and satellite services are also an option, albeit not as common.
* Caution – Small sample size under 50 testers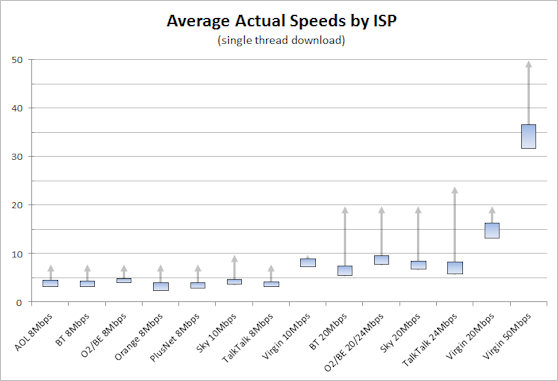 The above chart shows the speed variations (min/max of averages provided by Ofcom) for single-threaded tests both within the 24-hour period as a whole as well as within the peak 8-10pm periods. It does not take into consideration multi-threaded tests between 4-6am during which Virgin XXL '50 meg' customers attained speeds of around 46Mbps.
The eight providers covered in the research represent the vast majority of broadband connections and tests were carried out at 1,500 locations in total. We do remain disappointed Ofcom continues to exclude smaller providers from its studies.
Research into broadband speeds is vital to ensure that consumers are making informed decisions. We are also very pleased that the Advertising Standards Authority have finally decided to review how broadband services are advertised, with particular focus on the use of the term 'unlimited'.
You can test your own broadband speed on our speed test on our website or if you have an Android phone, why not try our mobile speed test for Android which we are currently beta testing.
Comments
Post a comment
Login
Register