BT fight back against cable thieves
Monday, July 26, 2010 3:39 PM
BT Openreach have today announced a new initiative to fight back against cable thieves. The company will deploy SmartWater, a liquid used to forensically tag metal thieves and they hope will protect the UK's telecoms network. Metal thieves cost BT millions of pounds each year and can disrupt telephone and broadband service for days whilst the cable is replaced.
BT will use SmartWater to forensically mark the outer shell and inner core of cables so that they can be identified back to a specific area. Tools and other equipment will also be marked so that police can identify where stolen items have come from. Hot-spots will be deployed with SmartWater trap devices which will spray thieves who target Openreach property.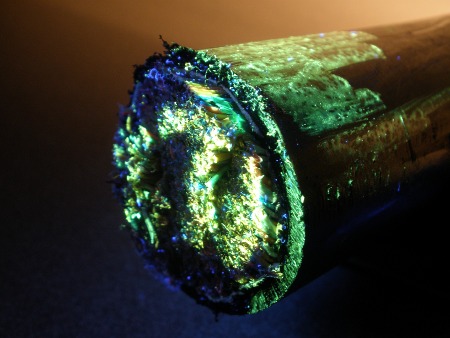 BT Openreach cable tagged with SmartWater
"From now on, any criminal who targets the BT network risks being invisibly 'tagged' with SmartWater, meaning that the police can trace them, and any stolen cable or equipment, back to the scene of the crime. Cable theft affects not only us as a business, but the millions of people who rely on access to phones and broadband across the UK, and with the help of this technology we're fighting back."

Bernie Auguste, (Head of Security) Openreach
BT will also be increasing patrols of network sites, adding new locks for manholes and working closely with police forces on 'sting' operations to target metal thieves. Openreach say that this technology being used in North London has already achieved results by reducing the number of network attacks.
"Cable and metal theft is high on BTP's agenda due to the disruption and economic effect it has on businesses and communities. Anyone arrested for metal theft will be examined for traces of SmartWater. A search will be made of the person's house and any property, including vehicles with traces of SmartWater on them, is likely to be seized by police. Scrap metal dealers will also be visited regularly to ensure they are assisting British Transport Police in identifying criminals attempting to sell stolen metal."

Detective Inspector Robin Conway, British Transport Police
Comments
Post a comment
Login
Register