Vtesse Broadband bring next-generation broadband to Hertfordshire
Wednesday, July 7, 2010 4:02 PM
Super-fast broadband is now available to two communities in Hertfordshire following the deployment of fibre to the area by Vtesse Broadband. Users in Birch Green and Hertingfordbury in Hertfordshire will be able to access broadband at speeds of up to 40Mbps. Five different products are available and details are available of these services on the new Vtesse Broadband website. Products start at £20 a month for an 'up to' 8Mbps service, and £30 for an up to 40Mbps product.
"I welcome the news that Vtesse Broadband is piloting super-fast broadband in the County via its fibre optic network to provide fast and reliable service in broadband poor-spots at Birch Green and Hertingfordbury. These are places some distance from their local telephone exchange and residents and homeworkers in those areas have endured the irritation of slow download speeds for too long. Action to improve speeds is good news."

Oliver Heald, Member of Parliament for East Hertfordshire
The service is being deployed using fibre to the cabinet (FTTC) technology with sub-loop unbundling enabling Vtesse to use the existing copper phone line to connect to the end users home. Vtesse are looking toward the future however and have plans to implement a fibre overlay network which would offer fibre-to-the-home (FTTH), granting faster speeds to users. A full fibre solution can be particularly good for users on long lines which can still be a problem at the green cabinet, with some served by Vtesse at around 3km still.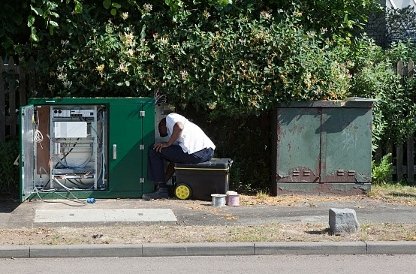 Vtesse Broadband cabinet and engineer next to rusting BT cabinet in Birch Green, Herfordshire
"As things stand today, it isn't economically viable to roll out super-fast broadband to much of the Final Third. The BT charges to other operators for sub-loop rental have not attracted regulatory scrutiny and are substantially higher than the equivalent full-loop charges, and the charges it applies to its own downstream business. There is substance to our ambition however and much will depend upon the speed at which telecoms regulator OFCOM drives down sub-loop and associated costs, and requires BT and other infrastructure owners to allow shared access to existing underground fibre optic ducts and over-ground telephone and electricity poles each of which could reduce costs and time to market. We think it is best to see what can be achieved by levelling the playing field before considering other Government intervention."

Aidan Paul, (Chief Executive) Vtesse Broadband
Vtesse Broadband have also introduced an option for users with poor performance to register with them which will allow them to gauge demand and guide future deployments of their network.
Comments
Post a comment
Login
Register