Can the UK broadband network cope?
Wednesday, June 23, 2010 2:04 PM
BT heralded that the launch of their 21st Century Network (21CN) would revolutionise broadband in the UK allowing consumers access to more powerful and integrated services including entertainment services. One could say that users are now accessing this kind of material through services such as iPlayer that allow viewers to watch live TV online or catch-up with any they have missed.
We are currently in the midst of an excellent test for how the UK's broadband network can hold up in the face of huge demand for video content with the World Cup, Wimbledon and the Budget announcement all streamed live online. Yesterday, business ISP Timico saw the budget set a new record high for video usage online, up 309% over their average, and this afternoon could top that still with the nation tuning in to watch England take on Slovenia in our final group game of the World Cup.
So how is BT's wholesale broadband network holding up? For some it's business as usual as everything seems to still be working fine but others may be seeing signs of the network bursting at the seams. High latency and packet loss seem to be the main effects, and these are currently showing up in the afternoons at the times when World Cup games are scheduled. Some users may only see a slight increase in latency or a small amount of packet loss whilst for others latency has quadrupled and packet loss is in the region of 5%. BT are aware of the issue and planned upgrades for the weekend gone aimed at trying to alleviate the strain, but there hasn't seemed to be any improvement. At present around 35 of the 71 BRAS's used for 21CN are thought to be affected in some way.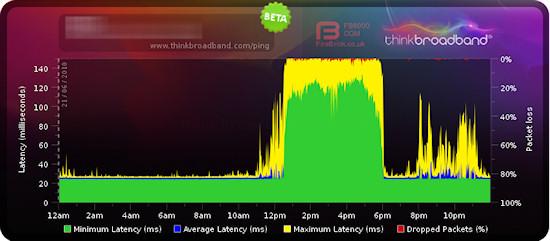 The graph above from our broadband quality monitoring tool shows clearly the rise in latency in one of our staff broadband lines that is only very lightly used. The average latency has quadrupled from around 28ms to approximately 120ms at peak World Cup time and packet loss can be seen (the red at the top of the graph) increasing. Users affected may see streamed video occasionally breaking up or freezing from packet loss and websites would be slower to load due to the higher latency.
Exchanges that are affected are those connected to the following BRAS's:
*-DY (latency)
*-L-FAR (packet loss)
*-L-NWS (latency)
*-L-WAT (latency)
*-LS-BAS (latency)
*-NT-B (small latency increase)
*-SL (latency)
*-WV (latency)
*-GI-B (packet loss)
*-GW-TH (low packet loss)
21CN isn't the only network affected however as some users on BT's older 20CN network have also seen packet loss during the times of world cup matches.
Some may wonder why BT haven't installed more capacity to cope for this in advance. Many ISPs have indeed increased their capacity to BT to avoid there being a bottleneck at that point and also links out to the Internet have been expanded, however the level of traffic may have exceeded expectations for those who plan capacity and bringing live new capacity can take time.
We should stress that the latency issues referred to here relate to the BT Wholesale network used by most service providers in some ways or others. It is also important to note that our current broadband quality monitor can only track performance for static IP addresses, and as such we cannot for example yet monitor Virgin Media's performance during the World Cup.
Comments
Post a comment
Login
Register