Broadband providers & router manufacturers failing to support IPv6
Tuesday, May 11, 2010 3:20 PM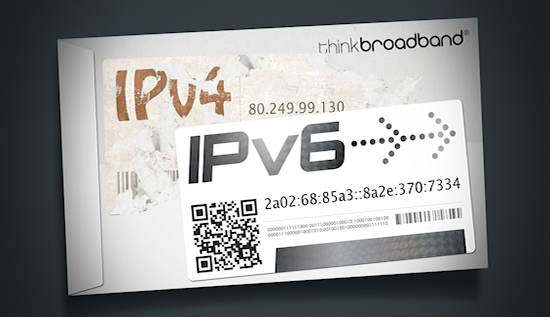 'IPv6' is version six of the 'Internet Protocol' which has been available since 1998 however it is currently only supported by a very small number of niche broadband service providers. It is important that service providers can support IPv6 as the available address space we currently use ('IPv4') is projected to run in 2011. After this, it will not be possible to allocate new IPv4 addresses which are used to identify each computer on the Internet, and whilst it will take some time before the effects are truly felt by consumers, it will start to divide the Internet.
IP addresses are like phone numbers and as the telephone network expanded, it was necessary to make them longer to make space for new numbers, for example by changing London's area code from '01', to '071', then '0171' and finally '020' in April 2000. The good news for consumers is that because we use domain names rather than IP addresses when going to websites, you will be able to continue to type www.google.com into your web browser, and it will take you to Google in exactly the same way whether it uses IPv4 or IPv6.
Mainstream operating systems such as Microsoft Windows and Apple's OS X have supported IPv6 for some time now, and even companies like Google have been IPv6 enabled since 2008, but only a small number of broadband service providers and router manufacturers are ready. It seems that those offering IPv6 are the niche providers.
The current IPv4 address space contains 4.3 billion addresses, but as more users and companies come online in countries like China, we're fast running out of them. The number of addresses offered by IPv6 is 340,282,366,920,938,000,000,000,000,000 billion (2 to the power of 128) which means that the size of the Internet could double every year and we would still have enough IPv6 addresses for the next 96 years.
We called 17 broadband service providers a few weeks ago to ask if they supported IPv6 and we were quite surprised by the results, not because we expected it to be supported by many of them, but because of the inaccurate information we were provided. Several larger providers took 20 minutes to give us a definitive answer, and even then we believe 3 of them got it wrong.
Here are some of the interesting responses to our question "Do you support IPv6?"
"Is it Internet Explorer 6?"
"I know quite a bit about computers but I've never heard that before."
"Never been asked. I'm just looking at Wikipedia right now"
"Is that voice over Internet?"
"[IPv6] has not been released in the market"
"We support IP version 5, but I'm not too sure about 6"
"Is that a TV channel?"
"[We] would advise you to use version 4 [..] Version 6 never always works"

Responses from service providers when asked "Do you support IPv6?"
You can check if your connection is IPv6 capable or run an IPv6 speed test.
Comments
Post a comment
Login
Register