Rutland Telecom to enable Welsh notspot of Erbistock
Wednesday, April 14, 2010 2:14 PM
Following the official launch of the next-generation broadband services in Lyddington this afternoon, Rutland Telecom has announced similar plans to enable the village of Erbistock close to the Welsh-English border, bringing 'up to 40 meg' speeds to a rural area where many people currently receive no broadband services at all.
"Rutland Telecom is encouraging and assisting rural communities to explore ways of raising the necessary capital such as looking at partnerships or joint ventures, which will ensure local investors get a financially attractive and acceptable rate of return. Its financial model takes into account potential population sign up and service charges and can demonstrate not only the investment required but a rate of return to be enjoyed by those willing to take part. Over the past few months we have been in discussion with several groups outside of Rutland who have all expressed interest in what we have achieved here.

This will be a joint venture between Rutland Telecom and a local group of investors.  They will use the higher speeds delivered by the Next Generation Broadband service to assist with their rural commercial office development. It will also allow them to benefit the local community by providing a service in that area."

Mark Melluish, Rutland Telecom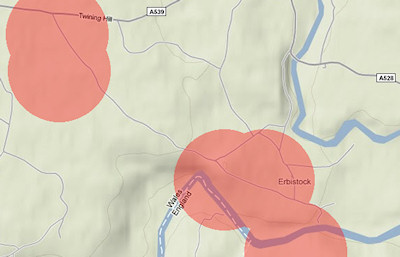 Map of Erbistock (Wales) notspot; Map data © Google & TeleAtlas 2010.
The plans by Rutland Telecom are likely to be welcomed by the Conservative Party who believes that private companies are capable of delivering next generation broadband to the 'final third' without government funding being made available immediately. Whether this model will be suitable for all rural areas however, will remain to be seen, but these announcements are certainly welcome news to rural broadband campaigners.
Comments
Post a comment
Login
Register