Fibre optic broadband in rural areas: Lyddington
Wednesday, April 14, 2010 8:08 AM
Rutland Telecom has today launched a high speed broadband service in the village of Lyddington in Leicestershire. Village residents and businesses will expect to receive broadband speeds of up to 40Mbps, with average speeds reaching 25Mbps, putting the rural village at the centre of Broadband Britain, with services comparable to, if not sometimes better than, those in the centre of London and other cities.
The service is delivered using VDSL2 equipment from Zhone Technologies which are housed inside a street cabinet, similar to those BT is erecting in many urban areas at the moment. This cabinet, acting as a 'mini telephone exchange' is then connected to the BT cabinet in a process known as 'sub-loop unbundling' with Rutland Telecom being responsible for the backhaul from the cabinet all the way to the Internet.
Speaking to BBC News this morning, residents were delighted with the service even though they had to put in up to £3,000 in investment, although they would expect to be paid back over time. Rutland Telecom representative indicated that this model was feasible in many areas where 40-50 households were willing to take up a broadband service.
"As a local IT company we were constantly getting enquiries about high-speed broadband and decided to see how this could be provided. We found that [..]  we could utilize parts of BT's existing infrastructure and supply next generation broadband services via community funded projects. Rutland Telecom is now delighted to have developed the first UK Fibre to the Cabinet broadband offering in a rural location bringing a unique service to an otherwise technologically-impoverished community.

The 'digital divide' has become one of the major social and business issues of our time. Investing in high speed broadband could be the key to stimulating rural economies everywhere so people can remain in the countryside to live and work."

Dr David Lewis, Managing Director, Rutland Telecom
In total, the village raised £37,000 which enabled the company to bring high speed broadband to an area that would otherwise have waited for many years to see the benefits of next generation broadband. They will be paid a 10% gross return for three years after which their investment will be fully refunded.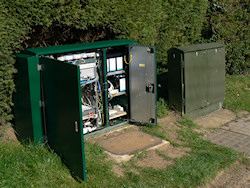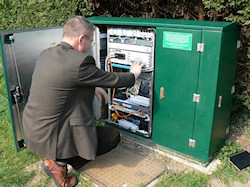 Rutland Telecom FTTC VDSL2 Cabinet with sub-loop unbundling in Lyddington (click to enlarge)
Comments
Post a comment
Login
Register