1st April changes broadband through Violet cable, ferrets and IPv6 only ISP
Thursday, April 1, 2010 4:53 PM
The first of April is often an exciting time, indicating the start of the notorious 'wet' month which brings April Showers (looking accurate so far), and this year is no exception with various new innovations appearing within the broadband industry as we detail below.
AAISP to drop IPv4
Andrews & Arnold are the first ISP to announce that they are dropping IPv4 in favour of running an IPv6 only network. They have been offering IPv6, the next version of the protocol that the Internet relies upon, for seven years and feel the time is right to make the leap to a v6 only network. Around 10% of customers currently have an IPv6 allocation, and AAISP will be allocating a /48 IPv6 address block to the rest.
The change over is pretty simple. You just have to either get an IPv6 capable router or set up PPPoE to an IPv6 capable PPPoE gateway such as your average linux box. I am sure everyone has several linux boxes, and the config is quite simple.

Once we have allocated IPv6 addresses the PPP negotiation will refuse IPv4 as not supported and only negotiate IPv6. If that does not work for anyone, they just need to email us for help.

In an unrelated move, the email servers will only accept email from our customer IPv6 addresses.

AAISP news release
Of course, some equipment does not yet support IPv6, and for these, they have release an IPv4/6 converter cable as pictured here: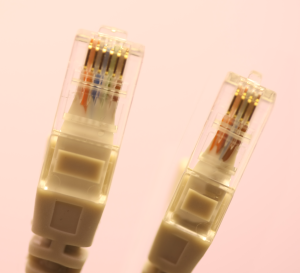 IPv4/6 converter cable for legacy equipment. Image courtesty AAISP
AAISP only released short comment on the news.
"NAT is evil."

Adrian Kennard, (Director) AAISP
TalkTalk Violet Ethernet cable increases speeds by 332%
A new innovation from TalkTalk Labs being released on trial today is a new Ethernet cable that can increase speeds by up to 332% without any loss of quality, resulting in a broadband connection that is three times faster than normal. TalkTalk are looking for 300 trialists to receive a free sample of the cable developed by a Dr Aprilsnar.
We have been using spectral resonance theory pioneered by the late Dr Aprilsnar, which uses balances the natural resonance of the typical home with that of the absorption rate across frequencies. What's interesting is that the cost of the final product will be no more than the usual Yellow Ethernet Cables used today.

The Colour Violet has a very close wavelength (400nM) as that of the natural resonance found in UK homes, which means that the usual interference that effects the Yellow cables is bounced away by the Violet cables. It has totally amazed us with the level of improvement you can get by changing the colour of the cable from Yellow to Violet.

TalkTalk Labs blog post
We wish TalkTalk all the best with their new Violet cable trials.
Ferrets key to Virgin Media fibre maintenance
Virgin Media have today announced that they have been using ferrets to help investigate, assess and support problems on it's cable network. The ferrets not only search out the best place to lay fibre optic cables, but also wear jackets fitted with special microchips which feed back information on maintenance required to human operators.
Virgin Media's broadband team came about the idea when discovering that ferrets were used to lay TV and sound cables for the televised coverage of the Party in the Park concert in Greenwich at the turn of the millennium. Initially rolled out on a trial basis for the first year, the scheme has proved so successful that Virgin Media is expanding its ferret force and continuing to use the furry investigators to help bring high-speed broadband to the nation.

The team of over 20 specially trained ferrets are the fastest in the land and hail from the National Ferret School in the Derbyshire Peaks. Headed up by Fang and Bandit, who are top breed Silver-mitt ferrets, the ferrets undergo regimented training at the school and love to race in their spare time. To mark the one year anniversary with Virgin Media the ferrets can be seen sitting patiently in a recreation of the famous 1932 Charles C Ebbets shot, 'Lunch atop a skyscraper', which was taken during the construction of the Rockefeller Centre in New York.

Virgin Media news release
Comments
Post a comment
Login
Register