Conservatives 100meg broadband plans may miss rural Tories
Monday, March 15, 2010 12:23 PM
Last week, the Conservatives set in stone their previously announced plans to deliver 100meg broadband to most of the country, with a wish to be the first in Europe to achieve this. The Conservative Technology Manifesto sets out their intention to use private sector investment to build the network, which will be aided by easements on planning rules from the government. Where the market does not deliver, funding from the television license fee which is dedicated to digital switchover will be released to help fund this from 2012 through loans or matched funding.
Details from broadband analysts Point-Topic shows that Conservative held seats look to be the most in need of public sector funding to deliver super-fast broadband, or as they dub it, 'superband'. They estimate how much subsidy would be required in different areas of the country, and they have produced the following map to details this.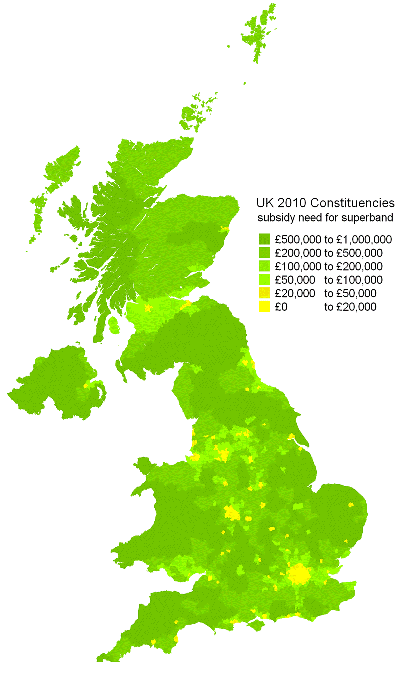 Point-Topic UK 2010 Constituencies Subsidy map
Of course, those in most need of funding are rural areas which make up a large part of the Tory voters, and plans to let the market try its way before re-evaluating in 2012 may alienate some of these. The market is likely to serve urban centres without the need for additional funding but rural areas cost a lot more to reach. The Conservatives are, however, confident that their plan is the way forward, expecting it to create around 600,000 jobs and adding £18 billion to the UK's GDP.
Comments
Post a comment
Login
Register