Targeted Advertising - Where is the boundary between right and wrong?
Wednesday, February 3, 2010 9:28 AM
Virgin Media customers visiting bt.com may find themselves being profiled on the home page seeking to persuade them to switch their service from Virgin to BT. It would appear that anyone visiting the BT site from a Virgin Media broadband connection is shown a different advert which links to a campaign which outlines the telephone, broadband and television service offered by BT: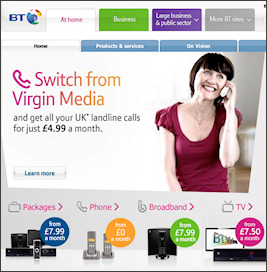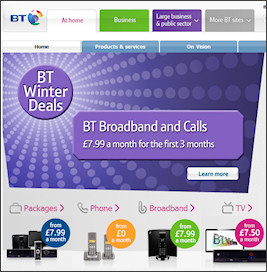 Comparison of BT.com - Virgin Media user (left); Other users (right)
We are not aware if Virgin customers are the only ones being targeted in this way, but this type of marketing is certainly quite common.
Targeted advertising is a hot topic on the Internet with more and more sites using such techniques to provide more relevant advertising. This means that one day you might be browsing books on Amazon, and the next day whilst visiting a completely unrelated website (such as thinkbroadband), you see an advert for a book you might be interested in based on the profile built on your preferences over time. This kind of issue does raise some privacy questions, although we should add that all BT are doing in this case is saying "Hello Virgin Customer!" which in itself is not really profiling, merely providing the user with a customised greeting in the form of an advert based on their IP address. This is a bit like a BMW dealer saying "Wouldn't you prefer to trade in your Mercedez for one of our cars?" having seen the car you arrived in.
But where do you draw the line?
Many websites you visit, ourselves included, will use ad networks such as Google to provide relevant advertising whilst allowing them to focus on writing the best content, rather than hiring a salesman to sell advertising. Recently, having visited one major hotel chain's website, I keep seeing banner adverts from that chain encouraging me to stay at one of their hotels. I certainly find this useful, as I would prefer advertising that is relevant to me as it means I am more likely to respond to advertising I see. Similarly, if you are visiting our site, you are obviously someone with an interest in broadband, so you may find adverts on another site about broadband services are topical.
This may seem all positive, so where's the problem? The examples often cited by privacy advocates often argue against targeted advertising revolve around shared use computers. For example, if you were shopping around for an engagement ring, you could find that your surprise has been spoiled when your partner starts getting suspicious about the advertising for wedding services. Of course, this should all be fixed by using separate profiles, or sometimes by features in web browsers such as "Incognito Window" (Google Chrome) or "Private Browsing" (FireFox), or "InPrivate Browsing" (IE), but there is the possibility that some targeting may be based on IP address, so even these are not a guarantee.
So what's the fuss about?
The strongest objections against profiling have been targeted at Phorm, a company that specialises in 'hijacking' traffic at your broadband service provider, and then injecting information that allows profiles to be built. Whilst this system does use cookies, and can be disabled quite easily, the objections centre on the method by which the data is collected, namely interception. Here, these companies contract with the broadband service providers rather than individual websites being visited, and users often feel this is an invasion of their privacy. Such companies build profiles by way of categories you might be interested in, such as "sports" or more precise areas like "one day cricket". They claim to avoid sensitive subjects such as medical conditions, but this has not alleviated the concerns of a vocal group of users.
Phorm is by no means the sole company in this area, although their name has been associated with all the criticisms of this technology. A couple of years ago, I was discussing the industry with a PR company representative who was working on an account for one of these companies. I asked them why their client didn't just allow the individual not only to opt out from advertising, but see exactly which categories they were profiled for, and even allow them to edit those categories themselves.
Targeted advertising is bound to increase, and informed opt-in is likely to yield the best results in terms of conversion. The key for companies offering this service is to put the user in control.
Comments
Post a comment
Login
Register