UK has cheapest mobile broadband in Europe
Wednesday, January 13, 2010 3:39 PM
A report issued yesterdy by CCS Insight shows that the UK is leading the way to cheap mobile broadband in Europe. Looking at the five leading markets, the UK beat France, Germany, Italy and Spain by driving down average prices for mobile broadband to around €17 (£15.20). Conversely, the highest costing country was France, where 4GB of data can cost as much as €85 (£76), but on average users pay twice as much as in the UK.
Broadband subscribers in these five major European markets are expected to rise from 22 million at the end of 2009 to over 43 million in 2011 with revenue rising from €6 billion to €11 billion over the same period. Most mobile broadband providers charge a flat rate fee for a set amount of usage, however in Italy, most tariffs charge on a time-based model. This is expected to change somewhat in 2010 with operators following the trends of their European counterparts.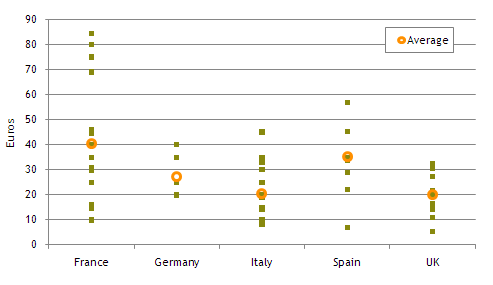 Mobile broadband tariffs in Europe, Q4 2009
Source: CCS Insight
The GSM Association, predicts that this coming growth will help boost the technologies used for mobile broadband which will provide users with better services.
"As the GSM family of technologies continues to evolve and we see increased deployments of HSPA+ and LTE networks, Mobile Broadband users will experience even faster data rates, more than sufficient to compete with fixed line broadband offerings."

Michael O'Hara, (Chief Marketing Officer) GSMA
LTE is an emerging next-generation mobile broadband solution which will allow users to connect with peak speeds in the hundred of megs. Tests in April of 2009 by Telefonica (owners of O2) in Madrid saw speeds in excess of 140 Mbps. When launched as a live service, they expect peak speeds to be around 340 Mbps. The next step up from LTE, is LTE Advanced which meets the 3GPP requirement of a 4G mobile broadband service which can provide speeds up to 1Gbps. With these speeds in mind for mobile services, there is a definite rival to fixed line DSL and fibre based services in the pipeline. How long until we see LTE Advanced is not known, but O2 announced in October their plans to run LTE trials in the UK.
Comments
Post a comment
Login
Register