Mobile Broadband: A new way to compare packages
Thursday, October 1, 2009 2:24 AM
For some time now, we have been trying to work out how to help you evaluate which packages are most suited to their particular requirements. As we list hundreds of broadband packages from over 50 broadband service providers, this task is far from easy due to the complex nature of some plans and bundles.
We have come up with an idea which we have implemented on our new mobile broadband section that allows you to compare over 150 packages from all the major mobile phone networks and with a single click, filter the lists down to the few packages that best suit your requirements. Why not have a play by visiting the mobile broadband comparison page.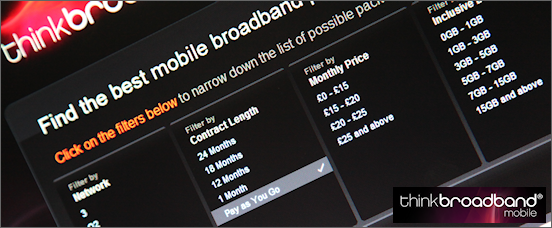 Once you have narrowed down the pages, you can select up to five packages and compare them side-by side:
We have also included a series of mobile broadband guides to help walk you through the most common questions you might have about mobile broadband including our Beginner's Guide to Mobile Broadband.
If this system proves effective as we hope it will be, we will roll it out to the main ISP listings in due course.
Comments
Post a comment
Login
Register