BE launches controversial new website
Friday, July 24, 2009 12:54 PM
Broadband provider BE have launched a new brand identity and website, and it's certainly got people talking. The new design is retro styled and in our opinion is quite horrible. It also has the option to allow you to add to the garishness with personalisation of the background from some of their options so you can make the site look like this: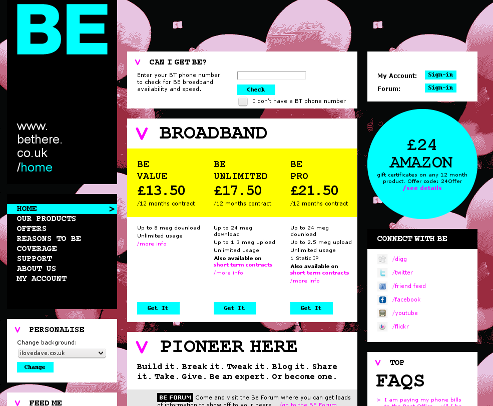 One has to wonder what they are thinking allowing the site to look like that. BE have always had a quirky design with their pink-styled asterisk and 'floating heads', however the new site is quite a contrast, sparking questions like "has the website been hacked?", partly compounded by SSL certificate errors seen when visiting the website.
"The brand idea is a call to arms, aimed to drive our members to be bold, provocative and inspiring, mirroring the co-creation, user-generated content and social networking aspects of the evolution of internet use.

"In a world of corporate control, we are trying to understand how a peer-to-peer relationship between members and the business can work. The end result has come from a process of speaking to our members.

"Our new identity's artwork is stripped back and raw, providing the platform for members to express themselves, something we know they already do across the web."

Felix Geyr, (CEO) BE
Some areas of the site haven't made it in to the new style yet, and other problems have raised concerns- with the launch of the new site, details about other customers was leaked out via the members area including addresses, telephone numbers and names. No payment details were leaked, and this bug has since been fixed.
One has to wonder if this new brand identity is a marketing ploy to get people talking and the new site will evolve in to something more sane in the coming days/weeks. If it is then bravo to BE, however, we're worried that they think this looks good! At least they are listening to their customers and critics. An update via BE's twitter feed reads:
"We get the gist of the feedback; our new website is live and you don't like the look of it. We'll listen and learn over the next few days."
Indeed there already have been some changes to the original layout. One step with this new brand identity is an attempt to embrace new media and get users more involved via twitter, Facebook and online forums. We can say they've certainly achieved that- see what our users are saying about their new site on our forums. You can of course explore the BE website more if you dare.
Comments
Post a comment
Login
Register