Online cricket and golf viewers create spike in SkyPlayer traffic
Monday, July 20, 2009 4:16 PM
BBC iPlayer & Sky Player are becoming increasingly popular as a way for users to catch up on recent TV programmes they missed. A number of service providers have discussed problems they face with peak bandwidth consumption when major sports, news or other large scale events take place.
On Friday, several ISPs saw spikes on their broadband utilisation during the day from people watching live coverage of The Ashes Cricket tournament at Lord's as well as the Golf Open from Ayrshire.
PlusNet analyse traffic patterns on their broadband platform (more info on their community site) which shows that Sky Player bandwidth would normally be around 13 Mbps on a weekday, whilst Friday showed peaks of 167 Mbps, over twelve times the normal levels: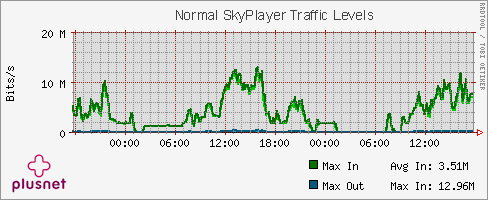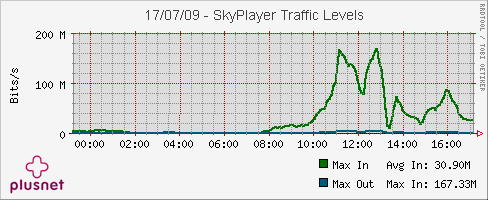 ISP Timico also commented a few weeks back, analysing the increased bandwidth during the Wimbledon Tennis tournament (graph below covers all traffic, not just one particular streaming service as shown above) when the tournament started, with a significant spike on the Friday 3rd July during the semi finals (look for the very dark grey line):

It has been suggested that this traffic is mainly from sports fans watching live sports coverage whilst in the office--We would remind everyone that if you watch TV as it's broadcast, even through a PC, you need a TV License.
Comments
Post a comment
Login
Register