How a £2 a month broadband 'tax' could deliver next-generation services
Wednesday, July 8, 2009 4:27 PM
Analyst firm Point Topic says Britain could get next-generation broadband (what they dub 'superband') for just £2 per month extra on the broadband bill; 50p being the so called 'Carter Tax' on every phone line which is expected to net around £170m a year, and the extra £1.50 coming from an increase in the cost of broadband to get a better service. This could get next-generation services to more than 90% of homes by 2015 they claim.
Their analysis is based on dividing the country into 4 areas based on broadband density. Area A represents where market demand will finance next-generation services and area D the remote areas where case-by-case solutions may be needed to provide broadband. They estimate that 73% of the population fits into area A, which covers only 3.7% of the land area (blue on the map). Conversely area D covers 4.4% of the population but 75% of the land area (red on the map).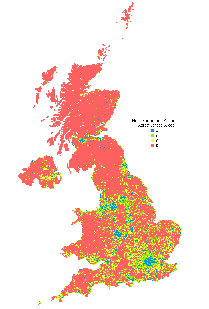 Click map for enlarged image
Consumers already pay extra for faster services- Virgin Media's 50Mbps comes at a £15 a month premium over their next fastest 20Mbps service. With £1.50 a month extra on top of current broadband prices Point Topic believe that area B (thinly spread suburbs, villages and rural fringes) covering 19% of the population could be covered with a subsidy from the Carter Tax of £70m, driving coverage up to 92%.
Area C with 3.4% of the population, covering small villages and hamlets, would need a subsidy of around £125m, equating to about £135 per household per year. The most rural area, D, with only 4.4% of the population may be looking at do-it-yourself solutions such as microwave links. Satellite broadband could be another option, but rural areas also have the benefit of a low cost to dig trenches to put in cables.
So what would people actually receive for this small increase in broadband prices? New services are already delivering fast peak speeds- Virgin Media at 50Mbps, and BT's fibre to the cabinet FTTC trial which launched at the start of July delivering 40Mbps over the phone line. Point Topic believe that people want a more stable and sustained broadband speed so they can use the applications they want, rather than just fast headline speeds.
"People shouldn't be asked to pay this tax unless they're going to get something really worthwhile for it. That's why Point Topic believes it must deliver a service which is fit for the 2010s.

"'Superband' should deliver much more than higher speeds. People want to watch BBC iPlayer for example, and have it run smoothly. They want to Skype each other and get a good picture. They want to play interactive games together when they're miles apart. They want to be able to work from home efficiently and access the company network as if they were in the office.

"These are all things which don't need huge download speeds. What they do need is continuous, steady speeds, so people can get committed bandwidth for as long as they need it. They want other things too such as good upstream speeds for two-way video and the quickest possible end-to-end speeds for gaming."

Tim Johnson (Chief Analyst), Point Topic
It is true that the average user doesn't care about the actual numbers- they just want to know the broadband will do everything they need it to, without the threat of running in to broken connections, traffic shaping or large bills. Whether this £2 a month broadband 'tax' would liberate broadband in this way is uncertain, considering the investment in the backend networks also needed to support it.
Comments
Post a comment
Login
Register