AAISP promises to fix your faulty broadband line
Tuesday, March 24, 2009 7:58 PM
Andrews & Arnold (or AAISP for short) is a small niche provider that has a reputation in the industry for a strong technical background. AAISP have now challenged other service providers, believing that they can provide better troubleshooting and thus have offered to take on customers with lines that have broadband faults which they believe they will be able to fix.
Customers can migrate to AAISP provided they are based on a BT Wholesale product at a cost of £0.99; if the company is unable to resolve the fault within one month, you can migrate away to another ISP and receive a full refund of all service fees. AAISP believes that its custom monitoring system and persistent troubleshooting by skilled staff can rectify faults which other service providers would simply give up on.
"If you are migrating your service to us, even though you know you have a problem with your line, we'll take on the fault. We'll tackle the problem and get it fixed within one month. If we don't then you can migrate away and owe us nothing for your migration to us and your service charges for that month."

Andrews & Arnold Website
At the core of the AAISP monitoring system is the custom built LCP echo monitoring system which operates over the L2TP interface to BT Wholesale and sends a sort of 'ping' to the consumer's router each and every second of the day. The latency (the time it takes for this ping packet to go to the router and the time it takes for the response to come back) is logged with packet loss and throughput information. These are then graphed for every customer who can access these graphs to see how their line is performing. Some technical users might query as to whether this monitoring traffic is from their metered usage allowance, but AAISP have already considered this and implemented monitoring further up the network so users do not incur any penalty. AAISP also provide customers full visibility over their interactions with BT Wholesale in troubleshooting ticket problems. For those who want to keep an eye on a line there is a facility to request a text message to be sent to your mobile phone if your broadband connection goes down.
AAISP has provided graphs showing the kind of improvement they can achieve on lines: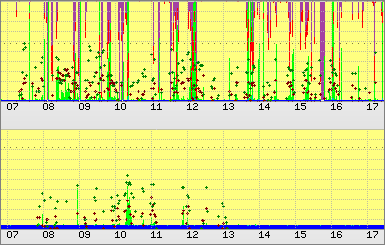 Graph showing the performance of the line based on an LCP echo every second using the Firebrick FB6000 which AAISP develop in conjunction with Watchfront Electronics. The purple lines from the top indicate packet loss. The top graph illustrates the situation on the line prior to work needed to resolve the issues (in this case a simple line card reset, although AAISP point out not all issues are this simple). The bottom graph shows the line once the issue has been resolved.
Full details of the offer are available on the AAISP website.
AAISP is a technically quirky company that offers options such as lunar billing--For those of you who don't know what that is, it means you get billed every full moon (every 29.5 days on average), as opposed to every month. If you are having persistent problems with your line that your current service provider is not addressing effectively, this might be an interesting opportunity.
"Broadband should just work!"

Adrian Kennard, Director, Andrews & Arnold
Comments
Post a comment
Login
Register