BT Total excess usage charge to rise to £1 per GB
Wednesday, February 18, 2009 1:08 PM
The BT Total Broadband Fair Usage Policy page has updated to reflect a number of changes to the policy that will come into effect on 1st April 2009.
Customers using BT Option 2 will benefit from an extra inclusive 5GB data allowance, giving a 20GB monthly allowance for the combined upload and download traffic. BT Option 1 will retain its 10GB allowance, Option 3 will be unlimited. Option 1 & 2 users need to be careful about exceeding their allowance, since if you exceed it for two months in a row the excess usage charges rise from 58p per GigaByte to £1 per GB.
On reading the fair use policy we noted that BT Option 1 customers are subject to a traffic management limit of 896Kbps on streamed video between 5pm and midnight every day. Watching a higher quality video on BBC iPlayer averaged out at 877Kbps for the few minutes we measured, but as the picture below from our tbbmeter tool shows the player likes to buffer video by transmitting it in bursts up to your line speed. By limiting the download rate for the video the time taken from clicking play until a video actually starts (i.e. the initial buffer period) will be higher and any small glitches are likely to result in a further rebuffer. Of course the more expensive products do not have this limit, but it seems at odds for a product that is sold as being good for 25 hours of iPlayer streaming a month.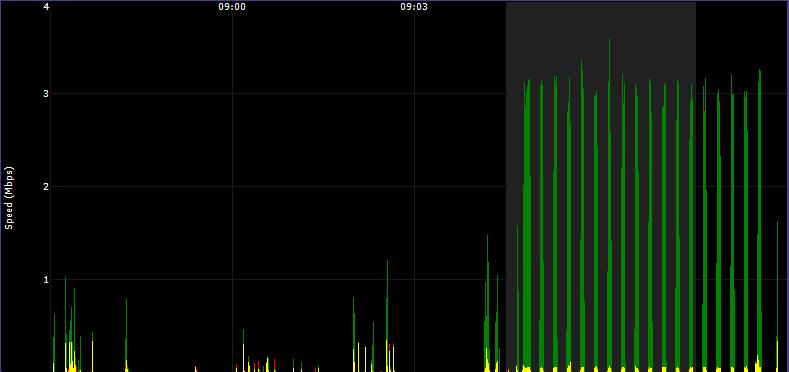 Click image for larger version
Comments
Post a comment
Login
Register