The cost of illegal file sharing
Saturday, November 29, 2008 11:57 AM
Davenport Lyons' is the name that is at the centre of the current round of letters demanding £500 compensation from people who are believed to have downloaded and then subsequently shared copyright protected material. A great many of these cases stem from a court order in June 2008 which requires providers to carry out a cross reference lookup between an IP address and time, and which customer was using the IP address at that time.
The Register has been following the story closely, and claimed an exclusive this week when it learnt that Atari had dropped a campaign that was run on its behalf by Davenport Lyons.
"In relation to file sharing, our position is that we always retain and reserve the right to protect our intellectual property from illegal copying and piracy. Whilst we are no longer working with Davenport Lyons, we continue to work with legal advisers to protect our rights."

Statement from Atari's legal department to The Register
The methods and amount of evidence used to produce the letters asking for a token compensation of £500, plus £5 costs for the ISP was very much brought into question when a case was dropped against a couple in November 2008.
Davenport Lyons' has expanded its operation beyond the games industry, and is now taking action against copyright violations involving adult films. Since the letters arrive addressed to 'Dear Sir or Madam', this could lead to some heated debates in households as to who downloaded and thus made it available for sharing via a P2P client, if in fact anyone did.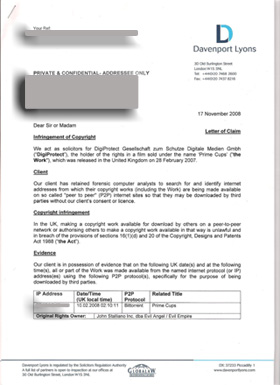 Click image for larger version
The irony of these letters is that you do not even need to have watched the film or have the whole film in your possession. Peer to peer protocols such as Bittorrent mean that if you start to download a file as you receive various parts of it, these will also be shared with others.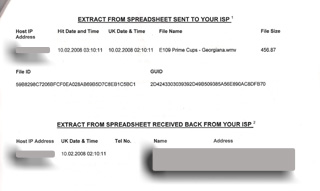 Click image for larger version
There are no statistics on how these letters are affecting copyright violations, but the sums involved for individuals seem excessive, there is the additional danger that people being accused of downloading pornography may simply pay up for the problem to go away. The reaction from many on receiving these letters is that they are an elaborate scam, but this is a long way from the truth and one law firm Lawdit is currently representing some 300 people who have received a Davenport Lyons letter. They have a File Sharing FAQ that is worth reading. The key point is that if you are in receipt of one of these letters consult a solicitor.
One could be forgiven for thinking that the various proposals for three or four warning letters for copyright violations before some punitive action might be preferable. Firms behind the current letters risk tarnishing their image, and the hardcore who have massive film collections will be looking for more secure and harder to track ways of sharing material.
Comments
Post a comment
Login
Register