thinkbroadband speed test passes Virgin Media tests
Tuesday, November 11, 2008 1:50 PM
At the end of October we highlighted that our speed tester was more than ready for the soon to launch Virgin Media 50Mbps cable products. This is now supported by the news from Virgin Media that our tester is the only one to have passed a range of rigorous tests.
"We are pleased that Virgin Media has carried out its own rigorous tests on our speed tester and we hope it will give consumers extra confidence in the accuracy and performance that our speed tester provides. We invite both consumers and broadband providers to use our speed tester as it will give people with fast broadband connections a reliable indication of their broadband speed. While we are confident that we can cope with measuring the current range of broadband speeds, we are not going to stop here, but continue to develop the tester and upgrade the platform in the hope that one day people will have affordable access to connections faster than 100Meg. Virgin Media is setting a gold standard by highlighting its 50 Meg package - let's hope other providers will also keep up with technology."

Sebastien Lahtinen, founder of thinkbroadband.com
The unique nature of thinkbroadband where we own and manage the network and server hardware allows us to keep up with the increasing speed of broadband connections that are available to consumers. We are aware that running a speed test against a single server cannot tell you the complete story about your connection, which is one reason why we launched the free tbbMeter application recently, so that people can track what speeds they are getting from all the places they visit on the Internet.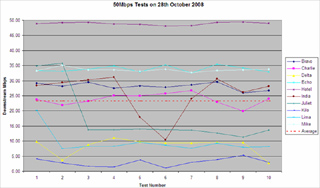 Click image to see larger version
The graph above shows the extent of the problem with a wide range of speed test sites, thinkbroadband is the one named 'Hotel' on the graph. Virgin Media has hidden the names of the other speed test sites, but the list of sites tested in no particular order was:
Speedtest.net (London)
Speedtest.net (Maidenhead)
Broadband.co.uk
Broadband-Expert.co.uk
ISPreview.co.uk
BroadbandChoices.co.uk
BroadbandWatchdog.co.uk
BroadbandSpeedChecker.co.uk
Thinkbroadband.com
BroadbandGenie.co.uk
Initially it was thought Virgin Media was just testing 50Meg connections, but it also did some tests for 20Meg, and only two sites passed the 90% threshold, ourselves and Speedtest.net (London). The average for the 20Meg testing was just 10.2Mbps and this was for testing done in the middle of the day, not the evening peak period. This low average for 20Mbps connections shows how far some speed testers have to go to provide reliable data to the public.
"Most speed testing sites are not accurately measuring the new generation of high speed broadband services offering 20Mb and above - so there is a real risk that customers are being misled. Our testing of 10 major speedtesting sites found only one accurately measured our upcoming 50Mb service, and only two accurately reporting on our 20Mb service. The various speedtest sites are now collaborating with us to improve standards to ensure consumers are able to make well-informed choices, however our results show there is still a long way to go."

Jon James, Director of Group Strategy at Virgin Media
Virgin Media is setting a standard with its 50Mbps product, so it will be interesting to watch how the product develops. It really marks the start of next generation broadband speeds for consumers in the UK, but content providers now need to ensure that they can serve content at speeds that complement the speeds the consumer can buy. A video streaming website that has stuttering playback might be accepted by people on 1Meg connections, but those on a premium 50Meg connection are likely to simply look elsewhere for their content.
Comments
Post a comment
Login
Register