Wholesale broadband pricing rules removed for 70% of UK
Wednesday, May 21, 2008 12:50 PM
Market deregulation has now arrived in the UK broadband market. Ofcom has decided that for 70% of the country that the regulations governing the price of BT Wholesale services can be removed. Precisely what will happen now is unclear, as the removal of regulation makes it much harder to predict the path forward. The Ofcom press release provides more information and a link to a long (155 page) document reviewing the market. Ofcom has produced a map showing the parts of the UK that face deregulation. The red areas which represent Market 3 are where the rules are changing.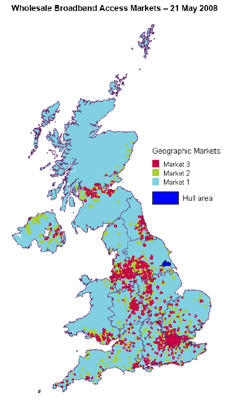 Click image for larger version
Ofcom has previously indicated it was looking at the UK as 4 distinct market areas, and the largest area is where no single wholesale provider holds a significant market power. Unsurprisingly this is the area where Virgin Media, BT and the various LLU operators offer services. In these areas as of December 2007, BT Wholesale had a 38.3% market share, Virgin Media 29.6% and LLU 32.2%.
"This is a major step forward in the UK broadband market reflecting the success we have had in promoting effective competition. It shows that we are determined to deregulate wherever we can do so in a way that is consistent with the broader public interest. We now need to build on these foundations and see timely investment and a competitive market emerge for next generation access as well."

Ed Richards, (Chief Executive) Ofcom
The above statement from Ed Richards reveals that Ofcom hopes that by removing the regulations it may kick start investment in true next generation access products which in turn may see connections speeds of 100Mbps becoming affordable to consumers. Whether this is what will happen is impossible to predict, and the current economic environment may actually put paid to large investment projects. It should be noted that this is not refering to 21CN and WBC as next generation products. Given the penetration of ADSL2+ across the UK already, WBC is currently BT Wholesale playing catch-up.
Removing the regulations on BT Wholesale may see the differences in pricing for its WBC and IPStream products for different parts of the country widening, which may see even BT Wholesale based providers offering two teir pricing in the country. One can presume that BT Wholesale will charge less in the densely populated areas in an attempt to compete with LLU and cable services but with the removal of the rules one wonders what measures are in place to ensure the continued availability of wholesale products. BT Wholesale could simply wind up its operations over time for parts of the country and the BT Group could only provide DSL based broadband via BT Retail. The effects on the smaller sub 150,000 customer providers could be dramatic if the way forward is to make wholesale agreements with LLU providers but still retain a smaller access network from BT Wholesale for the remaining 30% of the country.
Perhaps the plus side is the idea that we may see the BT Group more likely to start investment in fibre deployments especially if the requirement for wholesale access is removed. Though given that LLU controls would appear to still be in place it seems unlikely that BT could rip out the copper local loop and replace it with fibre. Any fibre deployment would have to be alongside the copper loop.
Just as with the introduction of Capacity Based Pricing in 2004, it took some years for the full effects to be felt as providers lowered prices by reducing the amount of over capacity they had, though at the time the vast majority welcomed the lowering in retail prices.
Who knows, Ofcom may have its wish and see more investment in next generation access, but given the market pressures to compete at the retail price level it seems likely that if we ever see widespread 50Mbps and 100Mbps product options that they will be highly contended perhaps at 100:1 or even higher levels. Some ADSL providers already contend at levels like this to keep prices low, so those who wish for fibre with its high connection speed and reliability may get their wish, but actual performance during normal waking hours will probably be no different to a 2Mbps connection of a few years ago.
Whatever happens, by using different rules in the different parts of the UK the danger of widening the digital divide is greater than ever. Three years time should see some 50% of UK households with the option of 50Mbps services from Virgin Media and possibly a patchwork of 50Mbps or faster services from other providers, but the remaining 30% look set at present to be left with ADSL2+ from BT Wholesale as the maximum offering for some time.
Comments
Post a comment
Login
Register