Eclipse launches customised broadband services with QoS
Monday, May 12, 2008 1:07 PM
Eclipse Internet has this morning announced the launch of its range of broadband services which can be 'tailored by customers to suit their individual online needs'.
In practice, this means customers have the ability to login onto a part of their website and select the relative priority being given to different types of traffic (e.g. streaming, web browsing, p2p, gaming and so on) to suit their own family or business requirements.
"We believe these services will provide our customers with an unparalleled online experience [..] For the first time, broadband users will be able to customise their service to suit their usage – so home workers can optimise their broadband to achieve the best possible connection to their company VPN, for example, while online gamers can prioritise gaming over other applications. [..] The inclusive usage limits mean customers pay only for what they use, which also allows us to offer much faster broadband than is achievable with unlimited services."

Mark Thomas (Head of Sales and Marketing), Eclipse Internet
Flying their ISPA 'Best Business ISP' flag Eclipse is trying to focus on meeting the needs of users looking for more control over how their broadband is provided. Packages start from £13.95/month for residential offering (although a current offer of first three months for £9.95/month is available) which includes 1GB per month of usage. A 10GB/month package "Home Select" is available for £17.95 whilst the top end "Home Pro" service with 50GB/month costs £29.95. Additional traffic is charged at £1.25/GB. Business packages are also available.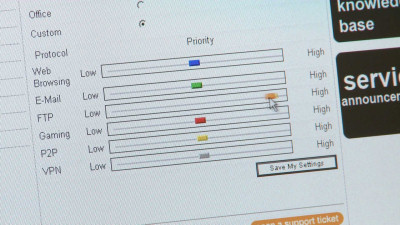 Eclipse Traffic Controller Tool
The tool offered by Eclipse will help users manage the download traffic and prioritise critical applications based on their own preferences. So for example, parents using VoIP to make phone calls to relatives in Australia over the Internet won't suffer from degraded service when their kids are downloading movies or the latest copy of a Linux distribution online. Similarly children playing online games could be set to receive priority over their parents' YouTube browsing.
Comments
Post a comment
Login
Register