BT 21CN 's WBC quietly goes live
Thursday, May 1, 2008 10:38 AM
Yesterday saw the official launch of Wholesale Broadband Connect (WBC) on BT's new 21CN platform. WBC is one of the new platforms used for deploying ADSL and ADSL2+ in the UK upon the 21CN network, and delivering the customers traffic to broadband services providers. It requires broadband service providers to connect to BT at up to 20 aggregation points around the country to provide coverage for DSL services to all telephone exchanges. Providers will also have the option of a managed solution, WBMC, which only requires one interconnection point, but this is at a higher cost to the service provider. They can also mix and match the two (WBC and WBMC) to use WBC where the provider has a large concentration of users and WBMC to pick up the rest.
What does this mean to the average broadband user you may wonder? Well, with WBC comes the faster ADSL2+ services which provide a broadband connection speeds of up to 24Mbps. As with existing 'up to 8Mbps' ADSL Max services, the speed is rate adaptive (i.e. it will vary) and it depends on line length and other conditions such as the condition of the telephone extension wiring in the home. Different ADSL modems and routers can also have a dramatic effect, both on the stability of a connection and its throughput speeds. The modem or router does have the ability to connect at 24Mbps which is the most common seen figure mentioned in relation to ADSL2+, but this is just the maximum 'line rate' for the DSL service. Once layers such as IP have been added to make the service work, users should expect no more than around 21.5Mbps on only the shortest of phone lines.
The ADSL2+ being deployed by BT is no different to that of existing providers such as O2/Be Unlimited and Sky/UKOnline who have provided faster services using ADSL2+ for some years and can potentially serve around 60% of UK households. The BT availability checker has been updated to include 21CN details so you can see if it is available in your area. An indication of the speed you can get is also available from the checker. If you are not in a 21CN enabled area, your speed can be estimated using the graph below.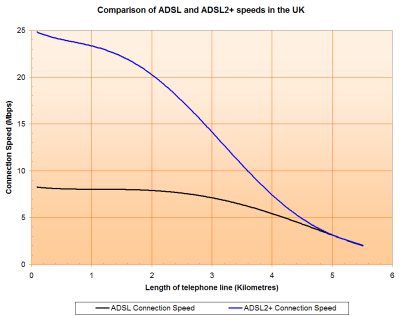 Click image for full size version
The new services on 21CN only have a small initial roll out; only 82 exchanges were expected to go live for the 30th of April. Coverage should rapidly increase, however, with 868 exchanges expected to be enabled by May 2009 which should cover around 10 million homes and businesses. As has been evident, there is a lack of any announcements by service providers introducing new products based on the new 21CN services. The lack of coverage for 21CN is one obvious reason for this. Another, as reported by ISPreview last week is the lead time in getting WBC services actually installed. Some providers who were on the WBC trials such as BT Retail or Entanet (and their resellers) could offer services sooner as they will already have the necessary infrastructure in place. Others may be waiting until the coverage increases till investing in the new network.
BT have gained some flack from an analyst in a recent BBC news article where Ian Fogg of Jupiter Research noted the tardiness and small size of the initial roll-out. One point to note about this is that ADSL from BT has taken 8 years to get to its 99.9% coverage and BT intends to switch the whole UK infrastructure over to its new network, 21CN, by 2011 with 55% of broadband users completed by May 2009. No small feat by any means.
One small snippet of information showing the future for WBC and what the 21CN network will allow is that BT Wholesale is conducting a WBC over fibre trial in Ipswich.
Comments
Post a comment
Login
Register