Will broadband providers ever reach agreement on advertising terms
Thursday, April 24, 2008 3:43 PM
The calls for a code of practice either voluntary or mandatory has been raging for some time but some comments from the Ofcom Chief Executive Ed Richards suggest it is getting ever more likely any code will mandatory.
The biggest problem from the consumer point of view will be that if a voluntary code is created providers who disagree with it will be at leisure to opt-out, but conversely a mandatory code needs to ensure it does not pander to just one or two providers and actually addresses the major concerns.
So what are the concerns?
Advertising unlimited products which have variable speed limits imposed that in some cases are not published anywhere.
The degree to which traffic management techniques will affect various types of traffic.
Providers not informing consumers at sign-up time of what sort of connection speed they will most likely receive.
The Guardian ran an item including the comments from Ed Richards and the revelation that something like only 4% of people subscribed to an 'up to 16Mbps' package received that connection speed. This issue of up to speeds is easy to explain with ADSL and ADSL2+ since the maximum connection speed is largely determined by the length of the telephone line. The graph below compares ADSL and ADSL2+ speeds versus their line length and reflects what should be reasonably possible in the UK.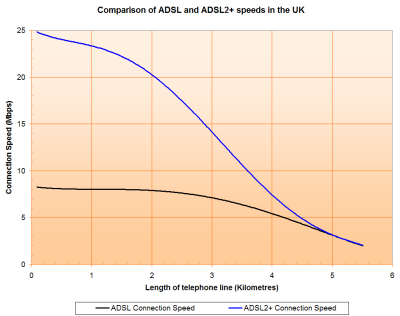 Click image for full size version
BT Wholesale has published estimates of the connection speed spread it expects from the roll-out of ADSL2+ via 21CN. For those with ADSL now a rough and ready estimate of your ADSL2+ speed can be obtained by finding your ADSL connection speed on the graph and the corresponding ADSL2+ speed.
BT Wholesale is also due to update its broadband checker to give connection speed estimates for individual phone numbers, so for providers selling BT Wholesale WBC products there will be little excuse for not educating customers at the time of ordering/regrade. The LLU operators have access to line length information from BT Openreach which some do use. None of the line checkers or estimates, even if you have ADSL running, can be 100% accurate but there are enough tools available for little or no cost to providers for them to always give clear indications.
Of course knowing a line may achieve a connection speed of 6.5Mbps is no good if one provider promises you should connect at a speed of at least 6.5Mbps and another says speeds of up to 6.5Mbps. The latter is probably more truthful, but the average consumer will believe the former.
The unlimited issue is seen as black and white by some, i.e. that if any limit to the amount someone can download exists that the product cannot be called unlimited. This for many includes using traffic shaping to slow peoples speeds down as they use more. There is a clear need for an absolute definition of what unlimited means in terms of broadband. One consensus would appear to be that providers with a fair use policy of around 500GB in a month is reasonable for an unlimited description. Such a large barrier to the description of unlimited will mean it vanishes for all but a small number of LLU operators.
Providers that have hardware in place to police a fair use policy or used that is on customers from the moment they connect should be required to state the various priorities used for traffic. This will allow customers to compare these priorities when choosing a provider, rather than only finding out once signed up and a few weeks into using the connection.
One very annoying problem is where providers have usage limits but do not provide the consumer with an easy way to track this. A good number of providers do this, so it cannot be impossible and for people with devices like games consoles it can be difficult to track their usage. If consumers were informed of their usage with their monthly bill for example, people would gain a feel for their usage levels and understand how their broadband needs are changing over time.
The biggest danger with any code of practice in the broadband world is that it may be out of date very quickly and far too often while a providers advertising adheres to the code, you will find smoke and mirrors taking place on their own product pages and some sales staff promising the earth. To ensure any code of practice is taken seriously there needs to be policing of what goes on, rather than simply waiting for large numbers of complaints from consumers.
The industry has crept into the world of up to 24Mbps broadband and created its own rules for broadband advertising (e.g. use of unlimited) and bodies like the Advertising Standards Authority are bypassed these days by having a simple banner advert that gets you to visit a website that is then not subject to ASA rules.
We could have written a lot less, since the summary is that whatever code of practice appears it must favour the needs of the consumer rather than pander to the needs of an industry that exists to make a profit from broadband.
Comments
Post a comment
Login
Register