Year in Review: 2007
Sunday, December 30, 2007 10:58 PM
As we approach the end of the year it is traditional to look back at how the broadband world has evolved in the last twelve months and what we should expect from the next year ahead.
In December 2006, we rebranded from ADSLguide.org.uk to thinkbroadband.com to try and shift our focus to the terms used by the average user. This major exercise taught us a lot. We did many things right, but we also made quite a few mistakes. We are going to strive to keep providing information for the technically astute but also to explain broadband better to the average user like our parents who don't understand the meaning of megabits and gigabytes never mind noise margins and attenuation.
The never ending problems of explaining technology in simple terms has remained an issue over the last few months with marketing experts battling to portray their companies' products as faster, better and cheaper than those of their competitors. The debate over the use of the word 'unlimited' in advertising broadband services has come to the headlines again as users find it more and more difficult to understand the level of service they are buying. Phrases such as 'up to 8 meg' are being banded around with users rarely understanding the loaded meaning of the 'up to' bit of the phrase. We expect this will improve slightly in the next six months with increased focus on consumer issues likely due to pressure from several quarters.
Industry consolidation has been a key feature over the last few years and 2007 was no different with the high profile sale of Pipex broadband to Tiscali for £210m in July. This included all the brands that Pipex had acquired (Bulldog, Freedom2surf, Nildram and Toucan). BT also continued on their acquisition trail, buying up Brightview and the related brands which will now be consolidated within the PlusNet network.
As was expected, LLU numbers continued to rise with November seeing an increase to 3.5 million unbundled lines, a distinct rise from the 1.3 million back in December 2006. This is largely due to TV/mobile packages being combined with broadband from providers such as Sky being very attractive to many users. The delayed entry to the market of O2 towards the end of the year should also help boost numbers for 2008, with more users taking advantage of discounts available. Other offers from the likes of AOL, offering a free PlayStation 3 or even a free laptop if you take out a 24 month contract have definitely helped to promote the LLU market. More attractive deals are expected next year to help win customers over from rivals.
Another area of growth this year has been the prevalence of free wireless networks using Wi-Fi. McDonalds announced in October that it would be deploying free Wi-Fi to its 1200 UK restaurants in association with The Cloud, and BT confirmed a deal with FON to implement the FON network on the BT Home Hubs, allowing anyone who shares their broadband network using FON to gain free access via other FON sites.
This year we have seen the introduction of free wireless services on some bus services in Reading, Glasgow, the Oxford Tube, and some National Express coach services from Cambridge and Milton Keynes to London. Mobile Internet use is becoming more popular with increasing availability of Wi-Fi on mobile phones including the much hyped iPhone which includes free wireless Internet access using The Cloud and free data access using the O2 mobile network. Phones are also coming equipped with high-speed data access that allow connections using 3G or 3.5G technologies at speeds up to 3.6Mbps, and for mobile workers, Vodafone's data cards can attain 7.2Mbps in some areas, rivalling fixed line speeds. As more devices get enabled, mobile based Internet access will become ubiquitous with 'Wireless Cities' expanding coverage on a mass scale.
BT's plans for its 21st Century Network (21CN) deployment are also expected to help it offer faster ADSL2+ services upgrading existing broadband services, although the major rollout of this will not take place until 2009. For those of you who have not quite twigged the scale of this change to the telephone system, watch this video from BT: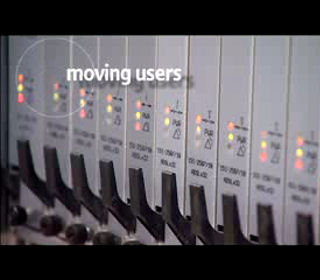 BT 21CN Video (click to play)
We are however expecting increased speeds in 2008 with Virgin's 'up to 50 meg' services which are currently being trialled rolling out and other developments within LLU including O2's recent push on the Be 24Mbps infrastructure.
Fibre to the home (FTTH) is as ever a volatile subject in the discussion on increasing broadband speeds. There were no major developments in 2007 and no immediate prospect of any large scale deployments expected. The government has expressed an interest in ensuring high speed services are a key priority and Stephen Timms arranged a meeting with the key broadband service providers to try and ensure a roadmap exists for investment.
With the growing popularity of sites like YouTube and the launch of streaming media services such as BBC iPlayer, the bandwidth demands from users are likely to grow both in terms of peak speed (to cope with High Definition Television (HDTV) content) and overall data transferred. Indeed only recently O2 and Orange have both indicated they will be joining BT and Tiscali in providing IPTV services. Will the Internet infrastructure cope with the new applications that are on the way or have we not quite gained critical mass for high bandwidth services which have been talked about for several years?
May we take this opportunity to wish everyone Happy New Year!
Sebastien Lahtinen & John Hunt
Co-Founders, thinkbroadband.com
Comments
Post a comment
Login
Register