Ofcom publishes international communications market report
Wednesday, December 12, 2007 4:11 PM
Ofcom has this morning published its International Communications Market 2007 report which compares the UK with other key countries in terms of television, radio and telecommunications.
The report provides some interesting statistics on broadband services in the UK and six key countries:
 
UK
FRA
GER
ITA
USA
CAN
JAP
3G Connections
per 100 population
12.9
5.6
6.7
28.0
7.8
0.9
39.8
Broadband connections
per 100 households
51.6
48.2
37.8
39.8
50.6
58.3
54.0
DSL
as % of broadband connections
76.4
94.6
96.2
95.6
43.4
43.6
55.3
Wi-Fi hotspots
11.2k
10.4k
9.6k
1.6k
26.8k
1.6k
9.8k
Countries: United Kingdom, France, Germany, Italy United States, Canada and Japan respectively.
Ofcom International Communications Market 2007 Report / IDATE / industry data / CRTC
Key points:
51.6% of UK households have a broadband connection, slightly better than average.
The UK has a significant 3G user base although it is significantly behind Italy and Japan who are miles ahead in penetration
France, Germany and Italy are very DSL focussed; USA, Canada and Japan tend more towards an even split of DSL and other broadband technologies. The UK is in the middle of these with 76.4% of connections being via DSL.
Most consumers in the above countries are satisfied with broadband speeds, except in Japan
It is worth noting that the Japanese figure for DSL connections has dropped as a result of large-scale fibre-to-the-home (FTTH) deployments. It will be interesting to see whether the increasing speeds expected from cable broadband in 2008 will change these proportions.
Interestingly, it seems that most of us are quite satisfied with our broadband speeds. In the UK, 68% are either 'fairly' or 'very' satisfied with broadband speeds whilst the U.S. boasts an 85% satisfaction rating. Only Japan has a very low rating where 41% are satisfied with their speeds. The report suggests a possible reason for Japanese dissatisfaction at broadband speeds may be related to the fact that not everyone can get the speeds in excess of 50 Mbps as only about 30% of broadband connections are delivered using fibre.
Ofcom also looked at the difference between the headline speed (the 'up to 8 meg' type figure) and the actual speed which users receive.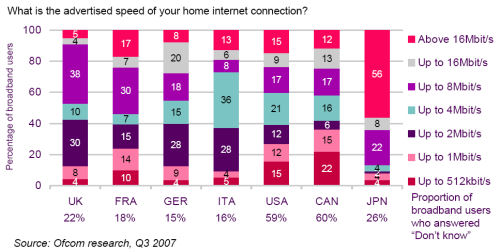 International Communications Market 2007, Ofcom (p. 158)
It is worth noting that in the United States and Canada where there was a wider more even spread of headline speeds, around 60% of respondents to a survey did not know what their broadband speed was. This is more than double the number in the rest of the countries indicating consumers outside North America probably select from a greater number of packages so thus compare more services before making their decision.
Quite importantly, the UK fared poorly in the comparison between headline and actual speeds. 47% of UK consumers stated their headline speed was 'up to 8 meg' or higher, but only 23% thought this matched their actual speeds. This may be higher than in some countries due to user awareness combined with the prevalence of DSL services which are more sensitive to line quality than cable, but it is nevertheless an issue which we doubt will go away anytime soon.
On a final note, the report suggests that in most markets the top three broadband providers have been increasing their market share since 2004 whilst in the UK (top three consisting of BT, Virgin Media and Carphone Warehouse) and Germany the top three have been losing their positions against other operators.
Comments
Post a comment
Login
Register