Is UK broadband really pathetic?
Tuesday, November 13, 2007 11:15 AM
UK broadband as a whole is undergoing a fair bit of navel gazing at present with various campaigns asking for clearer indications of speeds for consumers. What we often neglect to do is look at what is happening around the world.
The Organisation for Economic Co-operation and Development (OECD) makes the task of looking at other countries much easier as it compiles broadband statistics.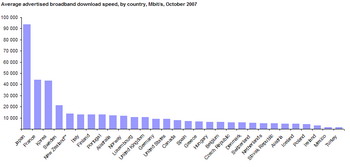 Click image for larger version (Y-axis is in Kbps)
The graph above compares the average advertised speed for various countries in October 2007. The UK sits at 12th place, with Japan, France and Korea occupying the top 3 places. Of course, advertised speed is very different to actual speeds experienced which is what the Computeractive campaign is highlighting.
The reason France out does the UK is because some companies have started to roll-out fibre based connections, which, apart from the odd flagship project in the UK, is years ahead of us. What would be of interest is to see what the average download speed is for people who have 1Gbps or 100Mbps connections. Many web servers are still hosted on a 100Mbps connection in a data centre, so in some countries, the bottleneck has changed from the consumer to the content provider.
Apart from the speeds of our connections which we in the UK seem to enjoy complaining about, usage allowances generally come a close second. The OECD data looks into this area and arrives at a figure of 21GB (GigaBytes) as the average cap for a monthly period, and in 20 out of the 30 countries surveyed, at least one provider imposes some form of cap. There are obviously some countries to avoid, as they calculate the average price per GB over and above the cap to cost (around £17 ($34)). UK providers generally charge in the range 75p to £3.
So is UK broadband pathetic? Well we aren't the top of the pile, but we are also a long way from the bottom. It is probably safe to say we are about average. With the number of people using broadband in the UK, the time is rapidly approaching that a service offering the right combination of raw speed, price and quality of service could move us up the broadband league. Alas this seems unlikely given the current economic instability and the need to offer fairly short term returns on investment to investors.
Update 14th November: An observant reader has spotted a problem with the Y axis on the graph we have featured in this item. The figures are actually expressed in Kilo bits per second, rather than the Mbps the graphs title suggests. The graph is a copy of the one produced by the OECD so the mistake exists in their publication.
Comments
Post a comment
Login
Register