Pipex issues second fair use letter to some customers
Thursday, March 22, 2007 9:30 PM
Pipex introduced traffic management systems in 2005, and part of this included a 'Fair Use Policy' which is detailed at www.pipex.co.uk/legal.
Two weeks ago it sent warning letters to a small number of customers warning them that their usage levels were in excess of the levels that Pipex views as normal home use. Unfortunately Pipex does not detail in the letter either the customers actual usage or what constitutes normal home use. This letter gave customers 14 days to respond with a choice from one of three options:
Change product to Pipex Midi which carries a 15GB usage allowance, and costs 90p per GigaByte (GB) for usage over 15GB.
Switch to a Bulldog Broadband service which Pipex detail as possibly being more suitable for the usage pattern of the user.
Switch to an alternate broadband provider by requesting your MAC from Pipex on 0800 1075902.
In the last couple of days those who did not reply to this letter have received a follow up letter shown below: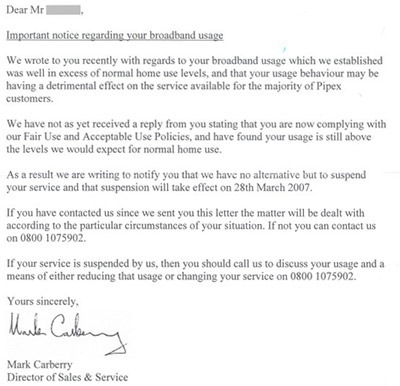 Click image for a larger version
This letter tells the customer that they have not replied to the previous letter and usage patterns have still not changed to be inline with the usage policy Pipex has. This means that users who received this letter will have their broadband service suspended on 28 March 2007. The 0800 1075902 telephone number is given for those wanting to talk to Pipex about the suspension or how they can alter their usage.
While we can be fairly sure that some of the users receiving these letters are fully aware of the sort of usage they make of their broadband, there will be families or shared households where the Pipex bill payer will not be aware of the overall usage level, and with no specific limits to aim for, customers will be left worrying whether any download is going to cause problems. The only guidance seems to be the extra from the Pipex fair use policy shown below:
Will I be affected by the Fair Use Policy?
If you don't use file sharing software or download large files from the Internet it's unlikely you'll ever be affected by our policy. If you do, all we request is that you do so with consideration for other customers sharing the Pipex network, for instance, downloading outside peak hours
Given that things like Second Life, watching video on YouTube, or even paying for content downloaded from the 4oD service are becoming more popular, it would be no surprise to see people being caught out by such an unspecific policy, without them fitting into the classical image of a P2P addict.
One area we would like to see Pipex improve is the visibility that a Fair Use Policy exists on its Pipex Max product. The product listing says that the Monthly usage allowance is unlimited (a screen shot from the product pages can be viewed here), with no obvious mention of any fair use policy, given the page is also entitled All the facts customers could be forgiven for feeling mislead. The second area is to actually include in its fair use policy examples of the amount of usage, for example, what sort of usage level if you stay under will they not even consider worth worrying about in terms of fair usage, as well as descriptions of what levels of usage may see action been taken.
Pipex is far from being the only provider with vague usage policies, the whole industry needs to provide clear guidelines to consumers that are not embroiled in legal speak, or run to pages and pages of technical terms that the average user will not understand.
"The small number of customers we have contacted with regards to their usage, are all very heavy users, regularly in excess of 100Gb a month. Our second correspondence was to those users who have not yet been in contact with us to discuss their usage or confirm that they are following our legal Acceptable Use Policy or Fair Use Policy. These customers have also not changed their usage behaviour since we originally contacted them.

We do understand that in some households the bill payer may not be the principal user, which is why we have taken a staged approach and invited people to contact us directly.

Our Fair Use Policy does not contain actual examples, as usage depends on a number of factors such as time of day, amount downloaded, type of activity and whether the activity is regularly taking place. Unlike some other providers, we do not place a specific cap on usage, but we do ask that customers follow our Acceptable and Fair Use Policies so that we can be confident their activity is legal and not adversely impacting the service to other customers.

We agree that we could make the description of our Max product clearer and will change our website to make it clear that we have a Fair Use Policy. As always, we welcome feedback and incorporate customer suggestions where possible."

Statement from Pipex
Comments
Post a comment
Login
Register