Pipex 'How fast can I go' checker used for marketing
Thursday, October 26, 2006 10:32 AM
Most service providers' broadband availability/speed checkers are fairly benign and not linked to the companies' marketing activities. In the case of Bulldog the presence of a check box to opt-out of any marketing calls makes this clear. However the Pipex residential broadband site did not have any indication that a telephone number entered may be used for marketing purposes by the company.
The issue was first spotted by posters on our forums and we have verified this by entering one of our telephone number which even though subscribed to the Telephone Preference Service and received a marketing call from Pipex about four days later.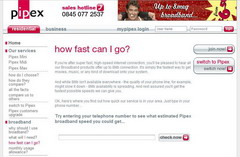 Pipex Website asking users for their telephone number prior to 26/10/2006
While the Data Protection Policy in paragraph 3 does cover the matter, it seems unusual to offer no opt-out or warning on the web page itself. We contacted Pipex on the 25th October and that evening a message had appeared on the page to warn people that their telephone number may be used for marketing purposes.
For those looking for an ADSL availability checker, the generic one at www.btwholesale.com/getbroadband is independent of any service provider and will not result in any marketing calls.
"Pipex has taken your views and those of our customers very seriously and has introduced an interim statement on the line availability checker pages, while the opt-out box is being developed.

You can view the live links here:

http://www.pipex.co.uk/broadband/howfastcanigo/

https://www.pipex.co.uk/order/avail.php

We have recently been calling visitors to our site - pipex.co.uk - who use the line availability checker, in accordance with our privacy policy. We introduced this activity following the lead from our recent addition to the group, Bulldog. We recognise the importance of the opt out box and are in the process of implementing one on pipex.co.uk. This work is with our developers at the moment and we are hoping to have this in place next month.

Our policy is to check all Caller Line Identities (CLIs) for TPS, so we are clearly disappointed to hear that there appears to be a flaw in our process. We are investigating this now and will ensure that any gaps in our process are closed. We do, however, extend our apologies to anyone that has been inconvenienced by an incorrect call recently.

We have found this new activity an informative process, as we have received positive feedback from potential customers and used the opportunity to answer any questions about availability and services.

We would welcome your views on the impact that our process flaw has had in the market place and we would certainly consider suspending the call activity until the opt out box is in place should the number of people impacted be significant.

Many thanks

Mark Carberry

Director of Sales & Service

Pipex"
Response from Pipex on marketing activities via checker
Pipex has issued a response which we have reproduced in full above. If you have any feedback you would like to give on the issue, feel free to post in the Pipex section of our forums.
Comments
Post a comment
Login
Register