BT Retail sends out bills for excessive usage
Friday, December 9, 2005 4:11 AM
BT Retail has made a couple of changes to its usage guidelines since it started to introduce them in June 2004. 2500 letters have been sent out charging customers £1 per GB for usage over the 40GB limit on their service. The letter appears to have only been sent to those who have used their connection far in excess of the 40GB, i.e. around the 100GB area.
The 40GB limit is the upper limit for the BT Retail services and this was raised from 30GB in October 2005. At that time, it was not clear what the penalty and options would be for those exceeding the 40GB limit and this has been clarified with a change to the terms and conditions of the service. The £1 per GB change was not, however, as widely announced as the 40GB limit itself. A copy of the letter sent out can be seen below: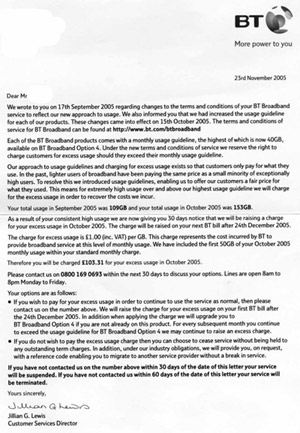 Click image to view a larger copy

People who have received the letter are given three options:
Pay the excess usage charge, and any extra monthly fees for an upgrade to the BT Broadband Option 4 product (£29.99 per month)
Obtain a MAC (Migration Authorisation Code) and migrate to another service provider (meaning you will not have to pay the excess usage charge)
Ignore the letter. After 30 days you will find the service is suspended, and a further 30 days later, the service is terminated. A suspended service can be re-instated if you contact BT, but once terminated you will need to pay the activation fee to get another ADSL service.
An email/letter has been sent out warning users that their usage is over the acceptable limits for the service, but not all high usage users appear to have received it.
Comments
Post a comment
Login
Register