Gio Internet - Debt collection agency pulls the plug
Wednesday, January 12, 2005 9:27 AM
As we have reported in a brief update on our previous article regarding the Gio Internet debt collection notices, the debt collection agency Wescot Credit Services Ltd. has returned all the accounts they were acting for to Gio.
"We recently wrote to a number of Gio Internet customers regarding an outstanding balance on their account. Wescot was acting under instruction of its client, ntl who provided on a wholesale basis, internet ports to Gio Internet.

Due to a significant number of enquiries regarding the previous management of these accounts, we thought it appropriate to write to you again, and advise that we have now returned all Gio Internet accounts back to our client and Wescot is no longer acting in respect of this matter.

Any information provided or payments made by you have been passed on to our client. Any future enquiries should be directed to Tony Gilmour, Gio Internet on 0871 433 3000.

If you would like to make a payment to clear any undisputed amount, we would be pleased to accept this within the next seven days and assure you that all monies received will be promptly remitted to our client.

Please accept our sincere apologies for any inconvenience this may have caused."
Letter from Wescot to recipients of debt collection notice, 29/12/04
We have heard from at least one user who has already paid because they were intimidated by the demand who dispute the amounts in question and we would like to hear from anyone else who has done this. Debt collection agencies are not usually known for letting a matter go but we are very pleased Wescot has ceased chasing accounts which have so many question marks over them.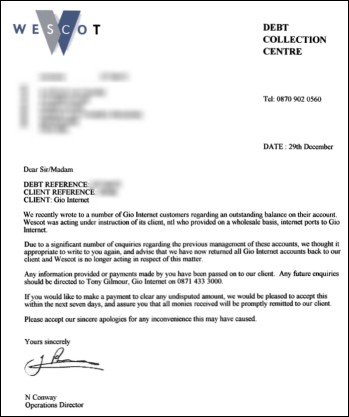 If you have received a Wescot debt collection notice and have not received one of the above letters informing you that the amounts are no longer being pursued by Wescot, we would advise you to contact them to confirm to ensure that it is not regarding a different matter as Wescot do act for other companies including NTL.
One interesting development was that in the Wescot letters, the text reads "Wescot was acting under instruction from its client, ntl who provided on a wholesale basis, internet ports to Gio Internet". This has lead to many former customers querying NTL's involvement in the Gio matter. NTL have confirmed that they use Wescot for debt recovery services and they were assisting a partner (Gio Internet). TheRegister reports in more detail stating that NTL confirmed that the company was owed money by Gio. It is therefore likely NTL's involvement is to an extent an interest in recovering debts owed to it.
Several users have expressed concerns about their credit ratings and how these events could affect them. We spoke to Wescot who confirmed that they have not made any entries on any credit histories with respect to these Gio Internet accounts so receiving a debt collection notice form Wescot should not have any adverse effect on your ability to get credit in the future.
Problems migrating
A few users who have received the debt collection notice but who are still active using Gio (or have ADSL orders on the line without service) have asked us about how they can leave the service. As with other providers, you should request the MAC code, which any reputable ISP should be able to provide. If all attempts to get this from Gio fail, you may be able to get it from the wholesaler (which may vary), although this cannot be certain. A BT Wholesale spokesperson said: "Whilst we fully sympathise with Gio Internet/Netservices customers, it must be clearly recognised that this is an exceptionally regulated market, with roles and responsibilities quite clearly laid out. Gio Internet are a Visp, who take their Broadband from Netservices [..] it appears that Gio Internet and Netservices are now in a financial dispute, as a result, Netservices have suspended service. [..] Unfortunately BT can bring no influence to bear on other SP's, for the reasons mentioned above, as I am sure you can appreciate, we cannot intervene with their issues, as we have a relationship only with Netservices, and not their resellers, or customers."
Alternative Dispute Resolution
"The Communications Act 2003 requires Ofcom to ensure that every public communications provider in the UK provides access to a dispute procedure to their domestic and small business customers (where a small business is one with 10 or less employees/volunteers)" (Source: Ofcom)
We asked Gio/Hauka which Alternative Dispute Resolution (ADR) scheme they were members of to which they replied that they are members of ISPA which gives them access to the CISAS.
"Membership of an ADR is now a requirement stipulated by the Communications Act. Failure to join such a scheme carries with it a fine of up to £30000 from Ofcom. Any ISP providing internet services to consumers and small businesses must join an ADR scheme. Gio are not the only ISP not to be a member of such a scheme. ISPA recommends that customers should always choose an ISPA member, as ISPA's own complaints procedure can often resolve customer complaints more quickly than going to arbitration.

Responsible Internet companies join ISPA and agree to abide by the ISPA UK Code of Practice. If a customer of an ISPA member believes that the member has contravened the code they can make a complaint to ISPA. The ISPA Secretariat resolves the most complaints the association receives in a matter of days. However when the dispute is more complicated, the CISAS scheme will make our complaint handling process even more effective."
ISPA Spokesman
We did ask Gio to confirm under which company name they were members of ISPA but despite several requests we have not received an answer to this question. ISPA confirmed that Gio/Hauka were members of ISPA but due to non payment, their membership was cancelled. CISAS also confirmed that Hauka was no longer a member of the scheme and have removed Hauka from their website.
New company...
Interestingly, Hauka UK Limited was incorporated on 14 December 2004, only days before the debt collection notices were sent out. The company's officers are also company secretary and director of Hauka Corporation plc.
Related Articles:
Gio Internet - The debt collection saga continues
Gio Internet sends in debt collectors
Gio transfers circa 1,350 customers to CustomNET
Some clarification on the latest Gio rumours
Gio issue press release on the current problems
Gio Internet - the saga continues
Gio Internet - in trouble?
Gio Internet upgrade results in users paying activation again!
Gio Internet slashes prices (and plagiarises Pipex terms)
Comments
Post a comment
Login
Register