Gio Internet sends in debt collectors...
Saturday, December 25, 2004 6:54 PM
Thousands of current and former Gio Internet customers received an early Christmas present from the company in the form of a Debt Collection Notice from Wescot Credit Services Ltd. The notices seem to vary but are generally in the region of a few hundred pounds and they have infuriated former customers who have in many cases hoped they had heard the last from the company. Gio Internet was in the news a month ago because one of their suppliers, Netservices plc, pulled the plug on broadband services citing a debt of over £220,000 owed to them.
Customers have received notices which look like this which demand action by 3 January 2005: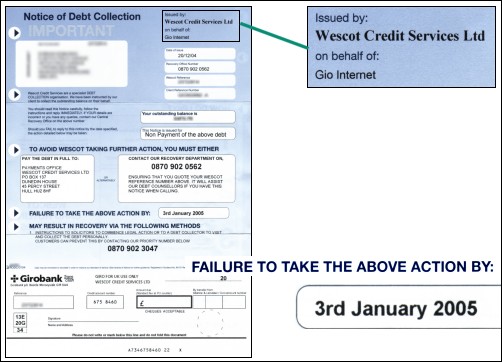 Gio state that the letters, the majority of which are for services other than broadband, were sent to recover debts not paid to the company. They acknowledge a problem affecting some customers who have paid Netservices plc directly, one of Gio's suppliers. Our indications however are that the problems are wider than this.
"As part of our migration to a consolidated billing platform, over the past few months we have closed off a number of accounts where no payments have been received for more than three months. We have passed these accounts to a third party collection company in order to ensure that all amounts due are collected.

As part of this closing off process it has become apparent that there are a number of accounts which were previously with Netservices, where we have no record of payment being received. It would appear that this is largely due to the fact that the payments have been taken by Netservices directly and no record of this collection has been made available to Gio. This situation forms a large part of our ongoing dispute with Netservices.

Customers who believe they may be affected by this problem can confirm this by checking their credit card statement, if the narrative is 'INTERNET SERVICES' then the payment has been taken by Netservices. If the narrative is 'WP-Internet Services' or 'WP-Farringham', the payment has been received by Gio.

For customers who have received a collection notice and are affected by this problem, please forward a copy of your latest statement to our customer service department either by fax on 0870 922 4005 or email to [email protected]. We will ensure that your account is closed and that you receive no further requests for payment.

On behalf of the management of Gio Internet, I would like to offer a sincere apology for any inconvenience caused."
Charles Holland, Gio Internet
If you have received one of these notices, (unless you have already done so) please forward a scanned copy to [email protected] with a brief description of your encounter with Gio Internet, what payments have been made and what company name appears on your credit card statement. If you don't have a scanner, still send the details to us.
Many users who have received the above letter have told us they have cancelled accounts months ago, sent e-mails to Gio which have never been answered and tried to get through by telephone for hours without success. We would therefore suggest anyone who has received the debt collection notice in error contacts both Gio Internet Ltd. (which we assume is the limited company with whom the contracts are with, although the debt collection notices fail to disclose this) at their registered address (141 Union Street, Oldham, Lancashire OL1 1TE) by Royal Mail Special Delivery (which is guaranteed next working day delivery with signature) as well as Wescot Credit Services Ltd. (If required, their registered address is 64 Dalblair Road, Ayr KA7 1UH) quoting the reference details on the notice and stating the full details of your transactions with Gio Internet along with all relevant details (attempts to contact Gio, failure to provide service, payments which have been made, etc.) If your letter is returned, please keep it safe.
Please note that we cannot provide legal advice and if in doubt you should contact a solicitor. We will be monitoring this issue very closely and a follow-up news item will be published in the next few days once we have completed our investigations.
Comments
Post a comment
Login
Register