Top 10 Fastest Broadband ISPs for November 2003
Monday, December 8, 2003 3:38 PM
The Eclipse-Nildram rivalry for the top spot continued as Eclipse snatched back the lead from Nildram which has for the first time in over a year fallen into third place, although it should be noted that all of the top three raised their performance from last month. Zen has moved into second position from a previous 444.0 Kbps to 447.5 Kbps edging past Nildram which only improved 0.1 Kbps from last month.
As usual, this table only includes providers who have attained the minimum number of confirmed tests and therefore may exclude smaller providers as it would not be possible to provide an accurate enough sample of speeds. Also, it only measures the services running at up to 512 Kbps so does not reflect the speeds attainable using faster services, although users may consider the relative positions of the providers in question.
The average downstream speed of the top ten went down from 438.4 Kbps to 436.7 Kbps although upstream speeds improved by 1.7 Kbps to 232.6 Kbps. The number of tests covered by the top ten increased by 725 to 27,803 tests.
BT Broadband manages to hold on to their top ten ranking despite a reduction in average tests of 5.5 Kbps but BT Openworld/Yahoo strays into eleventh position at 422.9 Kbps possibly indicating short term problems over the month. Freeserve is one of the significant fallers both in relative positions and in speeds.
Virgin Net, who only last week suspended taking new orders following speed problems with a growing and demanding user base has reappeared in the top ten in seventh position with an improvement of 4.5 Kbps downstream and a far more surprising step up from 210.6 Kbps to 235.1 Kbps upstream. By taking a bold move and not making the problem worse, we may yet see Virgin climb back up the speed charts.
The downstream positions of the ISPs mentioned above across the month is shown below: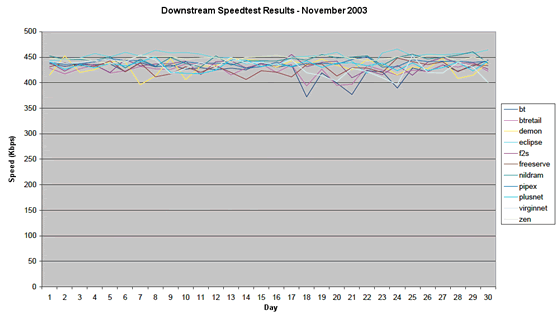 A similar graph for upstream performance: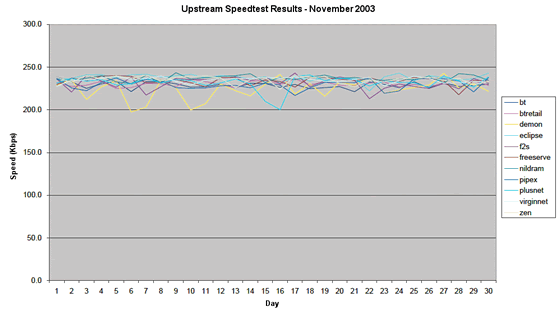 Users will wish to note that "bt" is BT Openworld/Yahoo! Broadband and "btretail" is BT Broadband. As always, we would remind users that you should not pick an ISP solely on the basis of speed test results but to consider all the requirements you have of an ISP. To view a list of previous months results, click here. Also, users may find out "So what do you think" feature on ISP ratings last month quite useful to consider in conjunction with the above. [seb]
Comments
Post a comment
Login
Register