Top 10 Fastest Broadband ISPs for October 2003
Monday, November 10, 2003 8:03 AM
The last few months have been an Eclipse-Nildram battle for the top spot and it appears that Nildram have in October once again gained back their number one position.
As usual, we would like to point out that only ISPs with 300 confirmed results can be shown on this speed league table so smaller providers may well be excluded by not having enough samples. The current league table only considers speed tests for 500 Kbps products. We are looking at introducing similar statistics for faster services when we have adequate tests to provide a meaningful comparative measurement.
We are also still delayed in publishing results as not all providers have provided us with their IP blocks. We can work this information out but we don't think we ought to have to considering the amount of free marketing our site offers to ISPs. To update your ISP listings, please see our additions page.

The first noticeable difference is the general downturn in speeds across the board with downstream averages within the top 10 falling from 442.5 to 438.4 Kbps. We have not identified any specific cause for this as yet--Users may wish to compare their results on other speed testers and see if they see a similar shift (albeit quite small in some cases, about 1% of the rating of the line.) Perhaps the most significant riser this month has been Demon from tenth to sixth position with a corresponding increase in speed against the trend.
Pipex users experienced slow speed test results between 13 and 23 October inclusive on the upstream part of the test, noticeably lower than other providers of the same calibre dropping from 233.7 down to 219.2 Kbps. We still are not sure of the precise cause of this problem other than expecting it to be a hop somewhere between Pipex and our network borders. We don't at this moment have any indication that this is related to the general speed variations as the patterns don't match but can confirm it seemed to occur during the late afternoon/early evening hours only and has not reappeared since so should not be a cause of concern.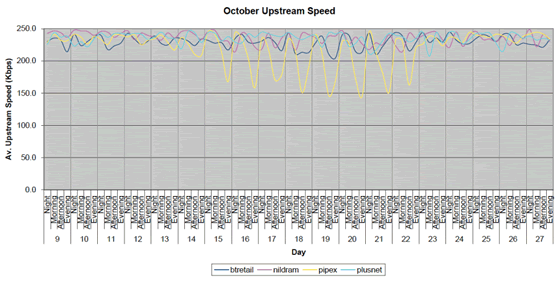 As always, we would remind users that you should not pick an ISP solely on the basis of speed test results but to consider all the requirements you have of an ISP. To view a list of previous months results, click here.
We have also compiled a league table of user ratings over the last nine months that will be published tomorrow. [seb]
Comments
Post a comment
Login
Register