Top 10 Fastest Broadband ISPs for September 2003
Friday, October 3, 2003 2:12 AM
After narrowly missing the top spot to Nildram last month, Eclipse has taken back the number one position in the ADSLguide speed test results in September.
We would like to re-iterate to ISPs (Freeserve in particular seeing as they are the only one featuring in the top 10 who hasn't provided this information) that we need to have your IP blocks as much of our time is wasted going through results where we cannot automatically detect the ISP which introduces a small number of errors, not to mention a very grouchy staff member at the beginning of each month.
The minimum number of results has remained at 300 to qualify for this list. As before, ISPs who have provided us with IP blocks (whether or not they have qualified for the top ten) are welcome to contact us for a breakdown of tests for those users who have left the "Allow my ISP to see my results" box ticked when submitting them. This data can be used to identify problems to improve network quality.
As always, please remember that these results measure only the 500 Kbps ADSL products and small service providers may be excluded on the grounds they do not have enough tests to provide a meaningful comparison. Also, this speed tester only measures speed from end users' ADSL connections to ADSLguide so should be used in conjunction with other criteria such as ratings and comments from friends and colleagues. It follows that ISPs with a greater number of results should be considered more accurate than those with fewer.
Eclipse both increased its average speed from 452.6 to 457.3 Kbps whilst Nildram's results dropped from 455.4 to 450.9 Kbps giving Eclipse a clear lead again at the top of the table. Nildram's upstream performance has a similar drop from 238.1 to 234.9 Kbps in September. A significant climber is Pipex from sixth position at 439.3 to third position at 445.2Kbps. Freeserve also made a welcome comeback into the top ten at fifth position after leaving it a year ago (despite a brief re-occurrence in December 2002 when it was tied with AOL at 404 Kbps). This is quite an improvement in speed terms considering in August, Freeserve was still in 11th position outside the top ten at a rate of 432.9 Kbps.
The average downstream speed within the top-10 rose from 442.2 to 442.5 Kbps although the upstream speed did fall slightly.
These graphs show the Eclipse/Nildram results with a 7-day moving average throughout the month: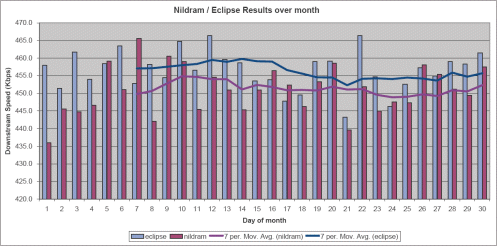 The above chart has more detail, but the following is useful to explain the scale of the difference: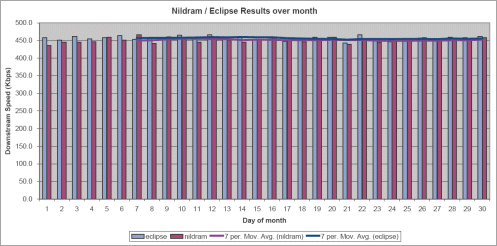 As always, we would remind users as always that you should not pick an ISP solely on the basis of speed test results but to consider all the requirements you have of an ISP.
To view a list of previous months results, click here. [seb]
Comments
Post a comment
Login
Register