Top 10 Fastest Broadband ISPs for August 2003
Thursday, September 4, 2003 10:07 AM
This morning Nildram staff will be cracking open a bottle of champagne for breakfast for it's yet again that time of the month when ADSLguide speed test results are published.
We were hoping to bring these to you a little sooner but unfortunately we still have providers who have not provided us with their IP blocks, resulting in manual work to verify results--We would strongly suggest that providers who have not already done so contact [email protected] as soon as possible as we will not be filtering your entries manually for long so your competitors may gain an advantage by having more accurate (and usually faster) results. We would also re-iterate that whilst we welcome tests from anyone around the world, please note that we only want to log results for the UK ISPs listed on our site. We still find users in the U.S. using out speed tester and filing results under ISP names which sound similar to their provider, or customers of global ISPs such as Tiscali and Easynet filing results from their networks outside the UK (e.g. Italy, etc.).
We have maintained the minimum number of results at 300 to qualify for this list. ISPs who have provided us with their IP blocks (even if they are not listed below) are welcome to contact me for additional information including a breakdown of tests for those users who have left the "Allow my ISP to see my results" box ticked when submitting them. This data can be used to identify problems to improve network quality.
As always, please remember that these results measure only the 500 Kbps ADSL products and small service providers may be excluded on the grounds they do not have enough tests to provide a meaningful comparison. Also, this speed tester only measures speed from end users' ADSL connections to ADSLguide so should be used in conjunction with other criteria such as ratings and comments from friends and colleagues. It follows that ISPs with a greater number of results should be considered more accurate than those with fewer.
The most significant change in the speed tests is at the top with Nildram claiming back the top spot after four months of tailing Eclipse, although we are sure they will have a challenge in maintaining that position. Eclipse's downstream performance dropped slightly from last month from 457.2 Kbps to 452.6 Kbps which, combined with a smaller speed improvement in Nildram's results meant Nildram was able to overtake them in the league tables. Many providers will have been affected by the recent worms to some extent, perhaps some more than others.
Those interested in more specific information on the Nildram vs. Eclipse results breakdown may find this interesting: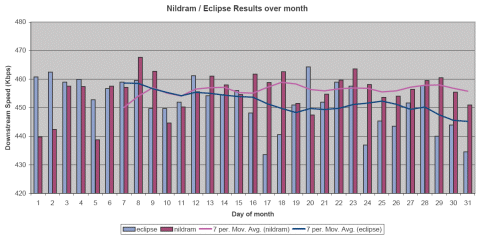 The above chart has more detail, but the following is useful to explain the scale of the difference: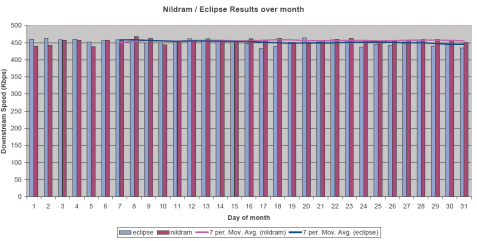 Other changes in the table include PIPEX dropping from 3rd position at 443.3 Kbps to 6th at 439.3 Kbps and Zen Internet climbing from 441.7 Kbps to 446.4 Kbps. We are happy to see BT Openworld maintaining its position in the top 10 having re-entered it last month. Another ISP worthy of mention is Demon climbing from 10th at 433.5 Kbps to 5th at 440.5 Kbps. The average downstream speed test results of the top 10 have risen marginally by 0.43 Kbps but upstream results climbed by 2.71 Kbps.
We look forward to the Nildram vs. Eclipse battle again this month but we would remind users as always that you should not pick an ISP solely on the basis of speed test results but to consider all the requirements you have of an ISP.
To view a list of previous months results, click here. [seb]
Comments
Post a comment
Login
Register