Oftel publish June 2003 Broadband Briefing
Sunday, June 15, 2003 4:33 PM
Oftel's monthly broadband briefing holds all the latest broadband figures and facts from the last month.
The main point of interest this month would appear to be the relative coverage figures for cable modem and ADSL services. At the time Oftel compiled the figures, cable passed 45% of households and businesses, with BT Wholesale ADSL managing 69%. Oftel also indicates that broadband fixed wireless coverage for the UK is around 12%. The historical growth of ADSL coverage is graphed below: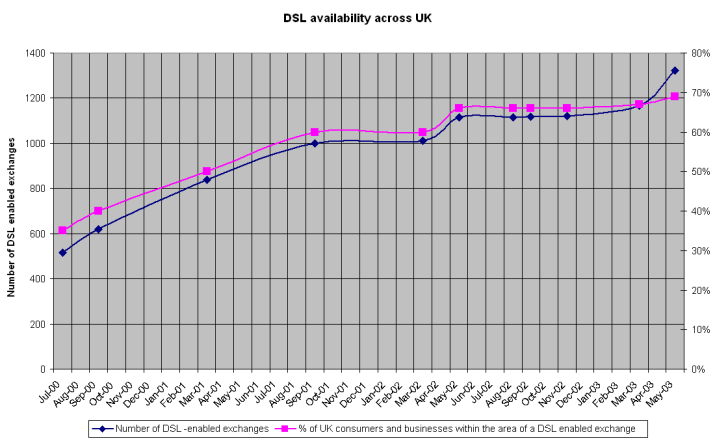 Click image for a larger view
The two periods of time when BT did not enable any new exchanges are clearly visible, but the current steep rise indicates that new exchanges are coming online. Unfortunately this is almost one year after the demand led scheme was started.
With around 2.05 million broadband users in the UK (Oftel counts 'always-on' and greater than 128kbps as broadband) the market share is 17% of Internet users, up from just 7% in August 2002. The level of take-up for local loop unbundled services is increasing, there are now 4,600 unbundled lines in use, up from 2,300 in January 2003.
The prospects for broadband looks good over the next 12 months. The ADSLGuide demand tracker lists 483 exchanges that have being enabled or have a confirmed service date, and another 129 that should get activation dates in the next couple of weeks. Looking at the data, it seems likely that around 300-500 more exchanges will hit their trigger point before Christmas 2003. This large number of exchanges being upgraded to ADSL will probably make 2003 the year when BT enables the most exchanges.
Comments
Post a comment
Login
Register