Our tbbMeter application runs on the Windows operating system was released a long ago in 2009, and software development has been frozen for a few years now. The tool is still being used by a good many people to help them see how much data their PC is using and monitor the live speed of download and upload traffic.
In April 2017 we turned off the server side features since analysis indicated very few people used those features and the time it would take to integrate the server side features into the new thinkbroadband design was very disproportionate to the number of users using the features. People are still free to download and use the software, and this Q&A section will highlight the features that no longer work along.
Features
About tbbMeter
Problems
What do the green, yellow and red bars mean?
The green bars show the traffic being downloaded from the Internet to your computer. The red bars show traffic that is sent from your computer to the Internet. Yellow is shown when data is being both sent to and received from your network card. You can see the different colours in this screenshot: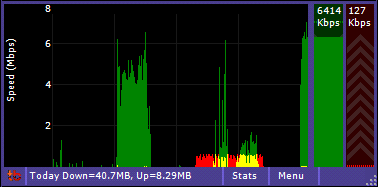 My usage limit is 25GB per month, how do I create an alarm?
Open the tbbMeter menu and go to the "Statistics" option and then select "Define Alarms". Enter a friendly name for the alarm that you will remember, and tick the "Enabled" box. Set the time and date to be the beginning of your usage period. Depending on the ISP, this may be the first of the month or it may be the day on which you are billed. Set the duration to "1 Month" and tick the "Repeat Alarm" option and set this to "Monthly".
Some service providers count only download data where as others count both upload and download. Set whichever applies and then set the units field to "GB" (GigaBytes). Enter the Trigger amount (25GB in this example) and choose a sound file that you would like played when you reach the limit,
How does the stopwatch work?
When you start the stopwatch tbbMeter will record how much data you download and upload and report this back to you when you stop the stopwatch with the speeds recorded doing this. You can use this to manually measure the speed of a download and to give an indication of the average and peak download rates that you received in the time that the stopwatch was recording.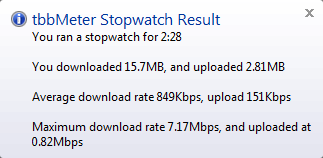 What is the ping tool?
The ping tool allows you to monitor the latency between your computer and other hosts on the Internet. If you leave it running accidentally it will automatically stop after 2 hours.
How do I record usage from multiple computers?
While the software still has the registration section it is non-functional and you cannot register and upload your usage data to a central web based store and view the data from other computers registered to your thinkbroadband account.
The feature was originally intended to allow people to monitor overall network traffic volume, but the increased cost of code certificates and software libraries that allowed us to split LAN and WAN traffic made continued development for Windows 10 non-viable.
How do I stop tbbMeter recording data between my computer and NAS/other computer?
If you have multiple computers or a NAS drive, you can stop tbbMeter from monitoring the traffic between these devices so it only records Internet traffic. Make sure you have updated to the latest version of tbbMeter as this feature wasn't available in early versions. Under the menu, select Type of Traffic to Display and then pick the option for All Internet traffic (TCP/UDP).
On Windows 8 and Windows 10 the ability to split LAN and WAN traffic, i.e. traffic between local devices and real Internet data is not available.
How do I see combined traffic from multiple computers?
This feature is now disabled, if you are running tbbMeter on several computers you can combine the traffic by exporting the data using the export to a CSV option and combine these files on one PC using Excel or any other spreadsheet too.
What is using up my usage allowance?
tbbMeter can tell you where you are sending or receiving traffic from and how much to each website but you need to be running version 0.9.5.3 or above and not be using Windows 8 or Windows 10.
First, check you have tbbMeter configured to record this information. Under the menu, select Type of Traffic to Display and then ensure the option for All Internet traffic (TCP/UDP) is ticked. You can then find information on what IP's data is being sent to by going to the menu and choosing Statistics / Alarms then View Sites Visited.
On this page you can see a list of IP addresses that you have sent or received data from. To find out what websites these are, tick the Attempt to resolve DNS on refresh checkbox, and click Refresh List. This may take a short while, but will attempt to get the hostname of the IP address. Note, this isn't always helpful in telling you what site you are connected to but may help identify if things like software-updates are running in the background.
What server based features don't work now?
I'm having problems, where can I get support?
We have created a forum section where users can discuss tbbMeter and get help with any problems. Please click here to visit it.
Will tbbMeter work on my computer?
tbbMeter has been designed to work on Windows XP, Windows Vista and Windows 7 in both 32 and 64-bit versions. It requires .NET 2.0 or a later version of the .NET Framework to be installed to work. If you do not have .NET you can usually get it from Windows Update or you can download it direct from Microsoft.
Windows 8 and Windows 10 will run tbbMeter and when installed it should automatically disable the LAN/WAN modes and thus reflect the traffic received by your network irrespective of its destination. When Windows 8 was released some network card drivers were missing the various performance counters which manufacturers added over the course of some months, unfortunately this issue appears to have repeated itself with the release of Windows 10.
In Windows 10 the Task Manager has a traffic monitor panel built into it, duplicating the most basic features of tbbMeter.
Will tbbMeter work in Windows 8 and Windows 10?
tbbMeter does work in Windows 8 but requires the TCP/UDP monitoring to be disabled. This can be done from the menu -> Types of Traffic to Display -> Disable TCP/UDP Monitoring.
The software should automatically disable TCP/UDP monitoring and if it is disabled and you are sure the software is monitoring the correct network card and you are still seeing no data this means your network card is missing the performance counters that tbbMeters needs to access.
How do I know if I already have .NET 2.0 installed?
See this guide from Microsoft on how to tell which version is installed.
Can I install tbbMeter on my Apple?
tbbMeter is only available for Windows XP, Windows Vista and Windows 7, 8 and 10. We looked into the costs of producing a Mac OSX version and while there was some interest the cost and time involved meant it was not viable when combined with all the other work we do.
Can I install tbbMeter on my iPhone / Android phone / Linux machine?
tbbMeter is currently only available for Windows XP, Windows Vista and Windows 7, 8 and 10.
Does tbbMeter monitor what I am downloading?
tbbMeter does not look at what you are downloading or uploading, only the amount of data that is actually sent. We also look at the type of traffic (TCP/UDP) and port that you go to so we can provide a further break-down of this information for you. You can find this in the menu under Statistics / Alarms then View Sites Visited.
How do I uninstall tbbMeter?
To uninstall tbbMeter, please re-run the setup program. If you are not sure where you put this, you can download the latest version and use this to remove it. You may need to install the updated version before you can successfully uninstall. You can also uninstall from Control Panel - you will need to remove both tbbMeter and tbbMeter Loader (if present).
Why can't I uninstall from Control Panel?
You can uninstall tbbMeter from control panel. Re-running our installer will give you the option to remove tbbMeter, or you can remove tbbMeter manually from the control panel. You will also need to remove tbbMeter Loader (if present).
If the uninstall fails, then you can stop tbbMeter from loading when your PC boots by disabling the tbbLoaderService which is the service used to subsequently load tbbMeter.exe.
Can I use tbbMeter on a non-broadband connection?
Yes. There is no limit on the kind of connection tbbMeter can monitor, and we have tested with both fast (Gigabit) and slow connections.
What data will you give to my ISP?
No data is shared with providers from tbbMeter.
Does this software auto-update?
Yes. We do a check at least once a day to see if there is a new version of the software and will give you the option to update if there is. We recommend installing updated versions when available.
No updates have been published for a few years now.
Who wrote tbbMeter?
We did! We wrote this application in-house so it would meet our specific needs and we can add exciting new features that you will find useful. We hope you liked it.
Since launching tbbMeter our focus has shifted to reflect the broadening of the number of devices we all use, i.e. the explosion of mobile and tablets for web access and ensuring our speed test application runs reliable on the pleothora of devices available.
My stats are not updating for the month
If your stats are not being updated to the monthly figures in tbbMeter, there could be a permissions issue writing to the data files. This can usually be resolved by uninstalling and then re-installing tbbMeter. To do this, go to Control Panel, and find either 'Programs and Features' or 'Add/Remove Programs'. You will need to uninstall the entries in here for tbbMeter and tbbMeter Loader Service (if present).
I've found a problem in tbbMeter. Will you fix it?
The software is now available on an 'as is' basis, and it is not in a format that is easy to release as open source for someone to take further. The release of Windows 10 means that a ground-up total rewrite would be the best way forward if we were to update tbbMeter now.
I get an error: "The application failed to initialize properly"
This error, usually accompanied by a number such as (0xc0000133) or (0xc0000135), is caused by not having a suitable version of .NET installed. Please ensure that you have .NET 2.0 or higher installed for tbbMeter to work. If you do not have .NET you can usually get it from Windows Update or you can download it direct from Microsoft.
I get an error: "Error 1722.."
If you see this error, please ensure that you are running the latest version of .NET (run Windows Update to get the latest version).