ARCHIVED CONTENT
This content is being maintained for reference purposes but is not being updated.
You've probably heard of ZyXEL from their popular analogue modem and ISDN TA range of products. ZyXEL Corporation was founded in 1989 and have accumulated an impressive set of achievements over the years such as the first ADSL router to implement PPP over Ethernet (PPPoE) back in 1999. This review focuses on the Prestige 643 (also known as P643) from the ADSL router range. ZyXEL produce a Prestige 782R G.shdsl router for LAN-to-LAN applications and a Prestige 642R (essentially a cut down version of the 643).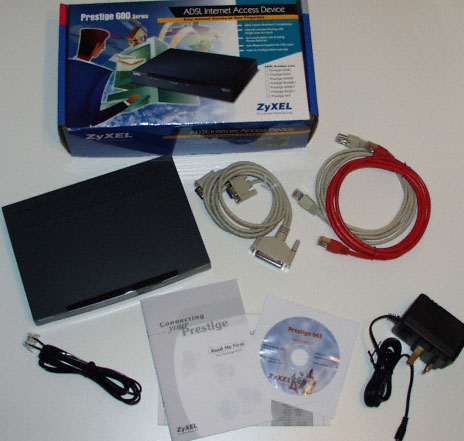 The Kit - Prestige router, DSL RJ-11 cable (black), console cable, two cat 5 Ethernet cables (one cross over), AC power adaptor, box and manuals.
Many ADSL routers on the market will provide you with one RJ-45 port to connect to your local area network. The P643 features a 4 port 10/100 auto sensing switch which means that home users or small businesses need not purchase additional networking hardware (other than Ethernet cards for the computers). The quick setup sheet contains UK specific information including VPI/VCI, encapsulation and multiplexing values. ZyXEL also mention 'wires-only' in their well written documentation - due to start December 2001. The user guide and manual (in PDF format) are distributed on CD with the router.


Rear Connectors - Power switch, power plug, console connector (standard DB9 - cable provided), 4 x Ethernet ports, ADSL RJ-11 socket
Notice the lack of an uplink button - if you need to connect the P643 to a HUB or switch, plug in to the uplink port at the other end. The console port provides access to the CLI in the event of IP misconfiguration or any other equally frustrating error on your behalf. I found the initial setup process straight forward taking no more than 15 minutes from the package arriving at the door to being online. The P643 supports multiple "remote nodes" but until BT offer additional PVCs (Permanent Virtual Circuits) you can ignore this feature. Assuming they do offer them in the future, you could use the router to connect to multiple remote sites (e.g. branch offices). For the time being, this can be done with VPN (Virtual Private Networking). The router runs on the "ZyNOS" operating system developed by ZyXEL and customised for each product.

Command Line Interface - Main Menu. Notice the strange numbering system!
The P643 features a web and command line interface. The web interface is basic enough to get the router up and running with your desired security level. The command line interface is where you'll perform any further configuration. The router will act as a DNS relay, forwarding requests onto to your ISPs name servers or manually specified ones and then returning the answer to your computer. The P643 supports SNMP and in combination with a package such as MRTG, you can graph your internet link usage against time. In addition, the router maintains a PPP log, packet filter / packet triggered log and CDR (Call Detail Record) with UNIX syslog support.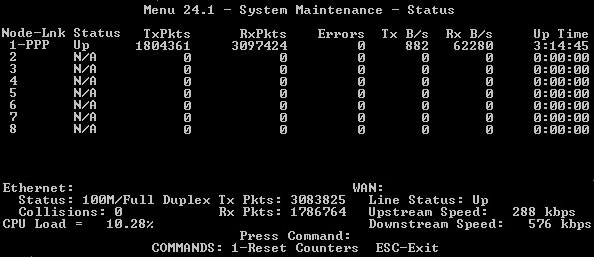 Command Line Interface - Router Status Page
Single User Account (SUA)
ZyXEL have taken Network Address Translation (NAT) performed internally by most ADSL routers and named it the Single User Account (SUA). Users who have just the one IP may prefer to run an additional software firewall behind the P643 (see firewall section below). SUA lets you redirect all inbound traffic to this internal system, which may also perform NAT for your LAN at the same time. This is known as the default server - a configuration option available on many ADSL routers. The P643 supports open port redirection as well, for example - if you wish to run a web server behind the router, port 80 can be redirected to your internal resource on the SUA configuration menu.
ZyXEL are planning to add their Full Feature NAT implementation to the P643 (and P642). This feature allows address mapping rules so that you can do 1:M (NAT), 1:1 etc.. on different global/internal IP addresses.


Front LEDs - Power, System Status, 4 switch ports, ADSL connection indicator
Firewalling
It is important to note that the P643 (and P642R) does not come with a firewall. The "filter set configuration" provides IP source & destination, protocol & port filtering options to restrict or allow data flowing in or out of the router. Security conscious/paranoid users should consider dropping down to the P642R (one Ethernet port) and purchasing a ZyWALL 10 to do the firewalling behind the router. As described under the SUA section, the default server setting can be used to forward all packets to the ZyWALL 10. The lack of firewall does not mean that you are necessarily insecure. The open ports on your internal computers will not be accessible from the outside unless enabled in the SUA configuration. A firewall sitting on top of the packet filter would provide a number of security features one being "stateful inspection" which is the analysis of data within the lowest levels of the protocol stack, comparing the current session to previous ones in order to detect suspicious activity (i.e. help prevent against hackers). It's a shame that a firewall is not included with the Prestige 643.
Backup
One of my favourite features on the P643 is backup support using XMODEM through the serial connection or FTP over your LAN. If you make a big mistake, just restore your last working backup. It's always worth having a backup at hand just in case!
Response Times, Connection Speed and Stability
The Prestige 643 responded well, bringing ping times down to around 30ms. Download/upload speeds were not affected (continued to run at full speed) and there were no stability issues at all. The P643 replaced my normal means of connectivity for two weeks.
Going Further with the Prestige 643
Our review covers what we would consider to be the features used by the majority of users - configuration options for the P643 do not end here. If your requirements are related to static routing, IPX, PPTP, L2TP, Port Address Translation (PAT) or more, the Prestige provides comprehensive support. We suggest that you get in contact with ZyXEL to discuss your exact requirements or download the latest copy of the PDF manual (see below).
Verdict
The Prestige 643 is yet another fantastic router from ZyXEL boasting an enormous range of features and some very well written documentation. Over the two weeks of usage, the router never once faltered. When the wires-only service is available towards the end of the year, I can imagine that this router will be recommended by a number of ISPs.
---
Jeremy Ainsworth

The contents of this review should not be relied upon in making a purchasing decision—You should always discuss your requirements with your service provider and hardware supplier.