ARCHIVED CONTENT
This content is being maintained for reference purposes but is not being updated.
By all accounts, the Alcatel SpeedTouch series routers are amongst the most popular ADSL devices in the U.K. after the BT-provided modems and routers. With such a brand name behind it, we had high expectations of this device, despite the problems that some users have encountered with its little brother, the SpeedTouch USB.
This review is based on the SpeedTouch Pro Wireless model that has just been released in the U.K. It should however be noted that it is very similar to the STP+firewall model with the notable addition of the wireless options.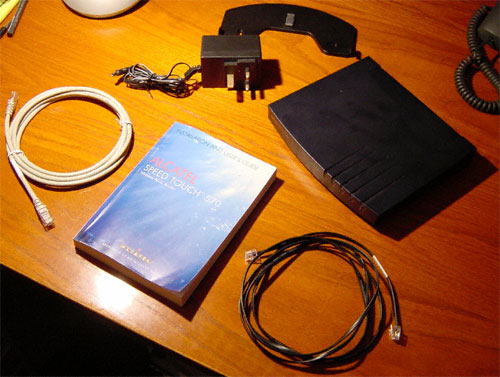 The Kit - Ethernet cable & DSL cable, AC power adapter, router, manual and wall mount.
Being marketed as a replacement device, I did expect the router to be 'easy' to install, but getting it working without reference to any documentation was not possible. I may not be an expert on ADSL routers yet, but I would have expected something a little better. Gracefully referring to the manual (not something I'm known to do often), I came to the same conclusion that others who warned me about it had come to—It's not very useful for the first set-up. However, to the rescue came a nice two-page document produced by DSLsource (one of the companies that sells these routers) that I was referred to by a friend. This concise information was all I needed to get connected up.



Rear connectors from left to right: Power switch, power connector, Ethernet connector, WAN association button, Reset switch, DSL connector.
The router has both web and CLI-based configuration although some features (e.g. firewall) must be configured on the command line. This can be achieved either through the CLI applet under the web interface (very useful!) or through telnet to the router. One notable difference between the wireless version and the STP+firewall is the lack of a serial port. This shouldn't be too much of a problem although I can imagine it would be possible to lock it up and having to reset the router and loose your settings.
The STP replaced my normal means of network connectivity over 3 weeks and I am very pleased with its performance—It has reduced a ping of between 30-40ms (the 'frog') to 20-30ms although I believe the latency problems are caused by the drivers or PC hardware rather than the USB modem most use. Once you get to know the web configuration interface, it's quite easy to use although the number of options will put off some beginners—No need to worry as you can always restore it to factory default if you mess it up.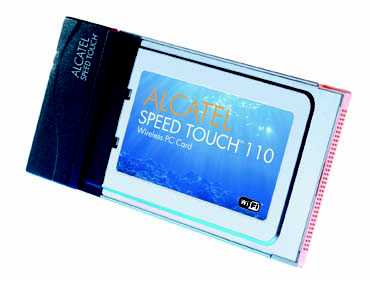 Alcatel Speed Touch 110 Wireless LAN Card
The router is very configurable; This will be a very valuable option for the advanced user who wants run SNMP queries to get the throughput information for statistical use. I would have liked to see a better "connection status" screen as well as logging information on the web .
The STP supports various DSL configurations with PPPoE, PPPoA, etc. and will work with the ADSL lines currently features on ADSLguide. It can interface in many ways from routing an entire network through Network Address Translation (NAT) to a PPTP interface. Full specifications can be found at the URL at the end. It includes all the standard features you would expect from a decent router; forwarding DNS server and DHCP server making installation on a network very easy.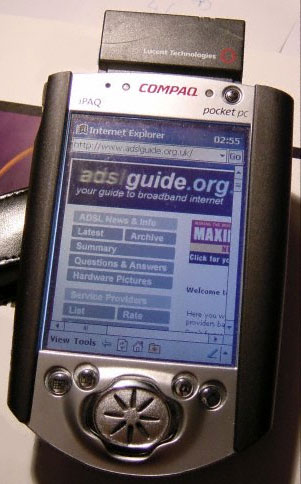 On the downside, I did have some problems making use of the hostname table and making the router remember ports I've forwarded and there are several areas where you will have to refer back to instructions on how to use it. I would hope that Alcatel add more on-line context-sensitive help in the future as it will dramatically reduce the amount of time spent configuring this router, especially for novices.
The firewall is I believe an essential feature in any router—It can be configured either by telnet, or by using the web interface's CLI gateway which makes it a little easier. Another possible improvement would be to make this simpler to use. The default configuration on the router is quite safe unless you enable the default server in the NAT settings which would open up some problems (as if you didn't have a firewall). Port Address Translation (PAT) under the NAT section is very easy to configure—This is how the firewall should be like. The wireless model also provides extra security in the form of 40 bit WEP encryption and a MAC address table giving users a little more comfort that their neighbours aren't listening in to their every e-mail, nor using it as a free web connection. Having said that, this would be an excellent way to share an ADSL line in a close neighbourhood.
Verdict
The Alcatel SpeedTouch Pro Wireless (with firewall) is an excellent router for those who want flexibility and are willing to pay the price. Despite the fact it initially seems quite expensive, wireless LAN base stations can easily cost as much. This would be pefect for a small office or home office network where laptops are used throughout the building. The wireless system will extend quite far out of doors as the speed is rate-adaptive to the conditions.
---
Note: You will need to purchase an 802.11b WLAN card to make use of the wireless features.


Sebastien Lahtinen
[email protected]
The contents of this review should not be relied upon in making a purchasing decision—You should always discuss your requirements with your service provider and hardware supplier.