ARCHIVED CONTENT
This content is being maintained for reference purposes but is not being updated.
Asuscom are a branch of the Taiwanese firm Asus. They specialise in digital communications hardware, particularly ISDN Terminal Adapters. The Asuscom dealer in the UK is Solwise, and they supply many Asuscom products including PBX's, connection sharing routers, VoIP, ADSL and general networking devices.
Just one of the Asus range, the AAM6000EV is the most basic of the Ethernet products with only one 10/100Mbps Ethernet port. Although the model I reviewed is lacking a hub / switch, you can obtain this functionality by going for the AAM6000BI model. An uplink port is included for handy switching between a hub and PC to save from having to use a cross over cable. Once out of the box you'll notice the distinctive design of the router is un-missable anywhere and makes a pleasant relief from the standard beige/black devices you see on the market these days. Everything is present in the box to get you up and running, and the user manual, although brief, is simple enough to follow.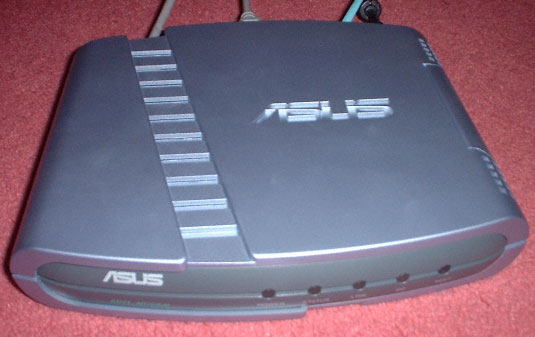 ASUS AAM6000EV Connected and Online
Both console and telnet configuration screens are the same so which ever way you connect, you'll always have the same interface. Although a bit thin, the user manual and the quick setup wizards are easy to follow. Set for routed IP mode, it is just a matter of selecting PPPoA, inputting the VCI/VPI values, username, password and the static IP address for the router as assigned by your service provider. NAT can be switched on or off with just one toggle option, which is essentially the only change between a NAT and routed IP configuration. If your ISP allocates you an IP block, I found that the router will use two or more IP's (one for internal and one for external interfaces). If you have just a single IP address, port mappings can be configured to allow routing to different servers, and there are simple toggle options to allow programs such as Microsoft NetMeeting to pass through the router seamlessly.


Rear Connectors from left to right: power, ADSL line, console, Ethernet post, uplink switch
This router lacks a firewall, but makes up for that by doing what it does, and well. Those who are familiar with ISC's DHCP server, the one on here will look familiar. There are also DHCP and DNS relay features, and the ability to act as a DHCP client. The AAM6000EV provides support for VPNs via PPTP, and most other common protocols used on DSL, so should be compatible if your requirements change. There are also some simple diagnostic tools (ping) on the router for help with finding problems on your local LAN.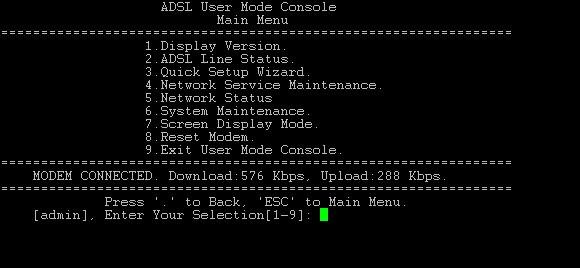 Main Setup Menu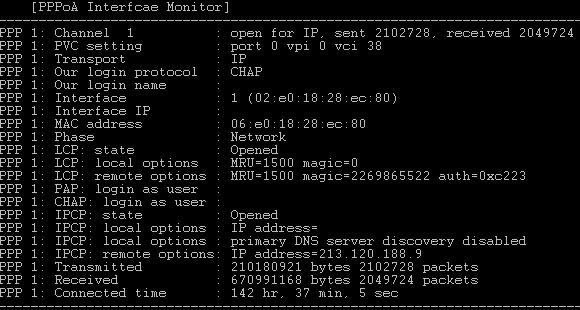 Connection Status Page
A quick mention about the other products available from Asus: there are both USB and PCI ADSL modems as well as a 4 port switch version. Asus also manufacture a wireless router, all available from Solwise, the UK Asus reseller.
Updates
9th Dec 2001: We have been informed by Asus that the new firmware (available after this review was written) for the AAM6000EV adds additional functionality into the router. This includes IP Filtering, Firewall, DNS Relay/Autodiscovery, Dial-on-demand, and username + password configuration. There is also configuration via a web interface included which allows for a much easier set-up of the router.
Verdict
Although not the most feature packed router, it supports everything stated in the specification, for a very reasonable price. It's easy to use and no reliability issues were found during the testing period. Those of you who are looking for a replacement to the BT supplied Alcatel SpeedTouch USB, I found it doesn't suffer from increased ping times and the uptime was good, at about 7 days online at last check; the connection only dropping when I had asked it to.
---
John Hunt
[email protected]
The contents of this review should not be relied upon in making a purchasing decision—You should always discuss your requirements with your service provider and hardware supplier.