ARCHIVED CONTENT
This content is being maintained for reference purposes but is not being updated.
Introduction
The WireSpeed 2410 is one of the latest additions to Westell's ADSL router product portfolio, featuring three methods of connecting up your local network to the internet; namely Ethernet, USB or 802.11b wireless. British Telecom have been supplying the Westell WireSpeed ADSL USB modem with engineer assisted installations for the last couple of years which may be how you've heard of the name.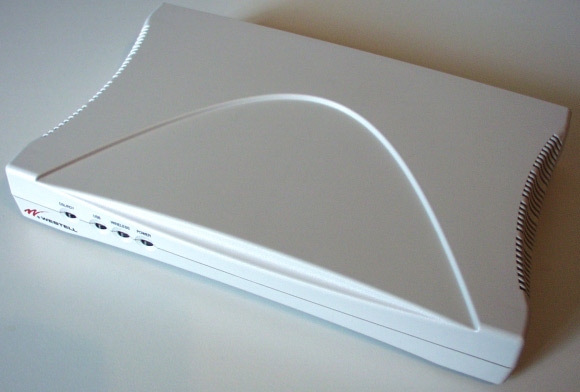 The router is supplied with a suitable PCMCIA wireless card, so unlike certain other products on the market, there is no requirement to make an additional purchase. As defined by the wireless 802.11b standard, the router supports up to 11Mbps over the airwaves, 11Mbps via USB 1.1 or 100Mbps via one of 4 Ethernet ports. The product was evaluated using firmware version 01.06.07.
Physical Setup
The unit arrived in a plain white cardboard box containing the following items:
Installation and documentation CD containing USB drivers and a PDF manual

Quick Start Guide

A generous 5 metres of RJ-11 to RJ-11 cable (useful if your ADSL socket is a fair distance away)

2 metre USB cable (type A to type B) for connection to the computer

RJ-45 Ethernet cable

Wireless PCMCIA card

Power pack

Four self-adhesive rubber feet (if not mounting on a wall or other surface)

Micro filter. An Excelsus filter was supplied with the evaluation unit

The Westell 2410 router itself
Connecting up the router is described within the quick start guide and essentially involves attaching power, DSL and either USB, Ethernet or wireless depending upon your preference. We should note at this point that USB drivers must be installed first, before connecting. The USB drivers create a virtual Ethernet card which looks just like a real NIC as far as Windows is concerned. This is a fairly common occurrence with routers supporting USB and helps to reduce CPU consumption by shifting most of the work to the hardware inside the router. The device supports all three methods of connection simultaneously however, we recommend you stick to just one initially until the unit is up and running.


Westell 2410 connectors. From left to right: DSL socket, 12V power plug, 4 port 10/100 auto sensing switch (with per-port collision and activity indicators), USB jack, recessed reset switch & PCMCIA wireless slot
The chassis is sturdy, lightweight and roughly average size for a typical ADSL router (approx 250mm wide, 155mm deep and 40mm high (including rubber feet)). In terms of design, it's fairly plain and functional with vents on the under and upper sides for heat energy dissipation. Like most routers, while busy, the 2410 does generate a fair amount of heat (nothing to be alarmed about) but should ideally be positioned in a reasonably cool room, as opposed to being hidden under a large pile of paper.


Westell 2410 Front Panel. From left to right: DSL status indicator, USB connection LED, Wireless connection LED, power LED.
Each respective LED may be either green, yellow, red and/or flashing depending upon the state of the unit. The product manual lists the different possible states (such as attempting synchronisation). Unfortunately, the 2410 does not provide any feedback to the user about how busy the DSL line is (i.e. the amount of data being transferred). In other words, the DSL light does not flicker when synchronised which can be a little frustrating at times. On the plus side, the USB or Wireless LED's will flicker when used, but you'll have to peer around to the back of the unit to see which Ethernet port is active. In general, a little more information on the front panel would have been nice.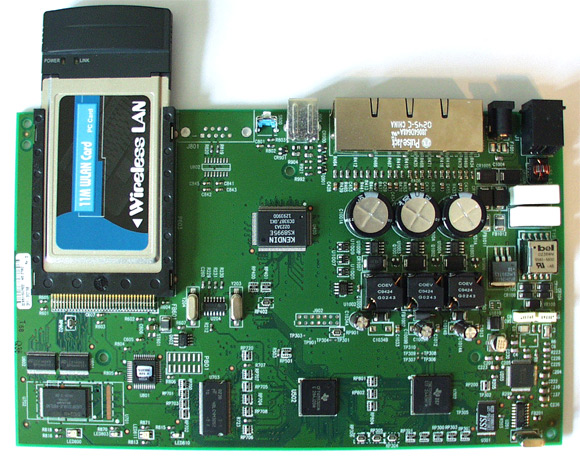 Westell 2410 Printed Circuit Board (click to enlarge)
Initial Configuration
The router runs on a default IP address of 192.168.1.1 and can be accessed using your favourite web browser by pointing it to http://192.168.1.1. By default, the inbuilt DHCP server is operational and will assign your computer a suitable IP address if configured to accept one (described within the quick start guide). The unit does not support access via other means, such as telnet.
It is strongly recommended that you set a password on the web configuration pages as soon as convenient to prevent malicious users (possibly on your own network!) from changing settings on your behalf. Strangely enough, when re-visiting the web configuration pages, certain areas were visible without the need to enter a username/password (such as the Connection Summary or About page). Although no changes could be made without being prompted to login, this posed a security threat, not to mention portions of the configuration being leaked to other users on the local network. Westell need to address and fix this problem in future firmware updates.
Upon first connection to the router, a multi-step "getting started" wizard guides you through entering your ISP login details and VPI/VCI numbers, the router will fully synchronise with the local exchange and login to your service provider. A new profile will be created on the Connection Overview page corresponding to the recently entered information.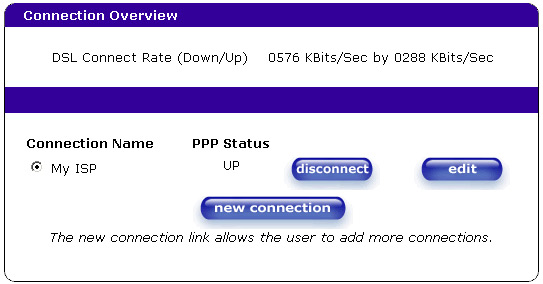 The 2410 can either maintain the connection on a permanent basis ("always on"), on demand or manually. As described later on, different NAT profiles (such as port mappings) may be created and assigned to your external connection depending upon the role of the router. I found the initial configuration very straight forward, and was online within 10 minutes. The only potential place where first-time users may fall down is when entering the VPI and VCI numbers.
Wireless Configuration
Probably the main reason why you would consider purchasing the 2410 is to take advantage of its wireless capabilities, which were very reliable and performed relatively well in terms of speed and coverage area. The 2410 doesn't feature an antenna, which helps to cut down the amount of physical space consumed by the unit. Wireless speed modes of either 11 or 5.5Mbps were attainable over distances of around 20m (through 2 or 3 brick walls). The card may be removed and reconnected without rebooting or turning the router off/on which is particularly useful if you are a paranoid user who wishes to completely disable wireless access while tucked up in bed.
The supplied card and firmware supports 40/64-bit and 128-bit WEP encryption (highly recommended for security purposes). It is also possible to apply "enhanced security" which prevents the SSID from being advertised to snooping computers!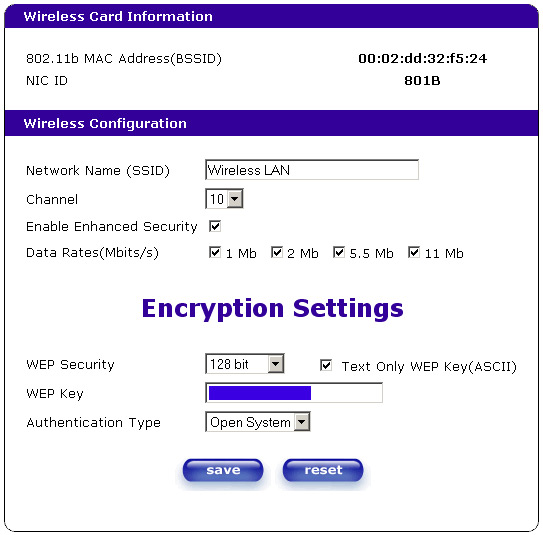 The WEP key should be 13 characters long (if entered in text only format - as opposed to hexadecimal) for 128-bit encryption, or 5 characters for 40/64-bit. The web interface attempts to guide the user by displaying a message box if the length is incorrect. The option to limit data rates is also quite interesting. By disabling access at lower speeds such as 1, 2 and even 5.5Mbps, a strong signal becomes a prerequisite for wireless access; in other words, your next door neighbour may have trouble accessing the service which boils down to improved security levels. On the other hand, limiting users to slower speeds is useful if you wish to either provide a service with a limited speed (perhaps your next door neighbour is sharing your 2Mbps DSL connection and is only allowed to use 1Mbps), or improving reliability to users with a poor signal strength by cutting down the number of retries or timeouts that may occur when higher rates are automatically tried.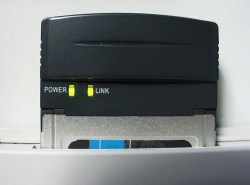 When active, the wireless card features power and link status indicators
The wireless capability of the 2410 was tested with a 3Com Wireless LAN card and actual transfer speeds of up to 5 or 6Mbps were easily achievable when using 128-bit encryption. Access to the internet and computers on the local area network (via Ethernet or USB) worked without any trouble.
Service Configuration / NAT Profiles
When the router is operating in NAT mode, the functionality of certain applications can often be compromised either due to the nature of Network Address Translation, or the imposed firewall configuration. The 2410 allows a series of profiles to be created containing a list of user defined port mappings for varying types of program.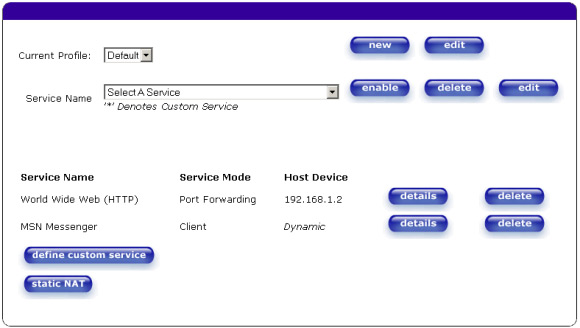 List of configured services within the "Default" NAT profile
Within each profile, the following types of NAT entries may be created:
Well Known Service - port mappings are entered automatically by selecting a commonly used application from an extensive list (drop down box). Each entry may be configured as a static port forwarding, or of a dynamic nature where the router automatically detects which client is using the service.

Custom Service - conventional port mapping for individual or ranges of ports redirected to an internal computer system

Static NAT - Another name for the DMZ (de-militarised zone) where all inbound traffic is redirected to the specified host address.
Custom services are a manual version of the well known variety described above. It's possible that at some stage in the future, a program you use is not classified as "well known" (possibly because the firmware you're running is outdated). A solution may indeed involve upgrading the firmware if you are unfamiliar with the ports and protocols used by the application, or failing that, specifying a custom entry for either a single or range of ports.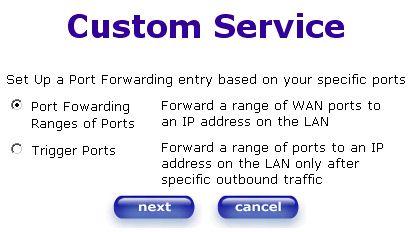 Firewall Configuration
The 2410 model features a firewall/packet filter with stateful inspection. A range of default security levels may be selected from including:
High - blocking all outbound traffic other than mail, news, web, FTP and IPSEC

Medium - recommended setting. Looking at the advanced configuration page, this level drops inbound packets with a source address of 0.0.0.0 and only accepts a limited range of ICMP packet types (reply, unreachable and time exceeded). A restricted set of outbound connections are permitted including FTP, HTTP, POP3 & SMTP.

Low - all traffic allowed other than "security holes" including NetBIOS (Windows file sharing) traffic

None - no packet filtering

Custom - filtering configuration is specified by the user. The downside is that a knowledge of the rule syntax is required (available in the documentation). We recommend that only advanced users should modify the custom rule set as there is no user friendly web interface.
Any pre-configured services (previous section) are automatically entered into the inbound filtering configuration, so there's no need to modify the rules after adding a new NAT port mapping. Rule matches which generate entries in the log can be viewed or printed under the Maintenance section. There was no support for log file export (e.g. to a syslog server).
Single Static IP Configuration / Public LAN
Single Static IP is another name for NON-NAT mode, supported by the 2410 and configured by assigning the external (WAN) address of the ADSL connection to a computer on the Local Area Network. Once activated, the computer in question will have full unrestricted access to the outside world. Note that the computer will no longer be protected by the inbuilt firewall and must be running some sort of software protection instead.
Perhaps the most useful aspect is the router's multi-NAT capability, allowing all other computers to continue using conventional NAT at the same time (i.e. via internal IP addresses). Any inbound traffic which is not part of a pre-established session, is directed to the single computer which occupies the external IP address. Users may wish to run a publicly accessible server (without having to enter many port mappings) while still providing access to the Internet for internal workstations.
For users with a block of IPs assigned by the ISP, a globally routed subnet may exist behind the router by enabling the "Public LAN" option. This rounds off a very customisable and powerful set of NAT related features rivalled by few other routers on the market.
Firmware Upgrades
The web configuration interface provides an easy way to upgrade the firmware, by automatically checking the Westell website for latest updates. Although the capability is certainly present on the client side, it looks like Westell haven't yet implemented support at their end. Despite testing on and off for a week or two, the update feature never worked. Falling back to the good old "local update" (from your hard disk) seemed to be the only viable approach.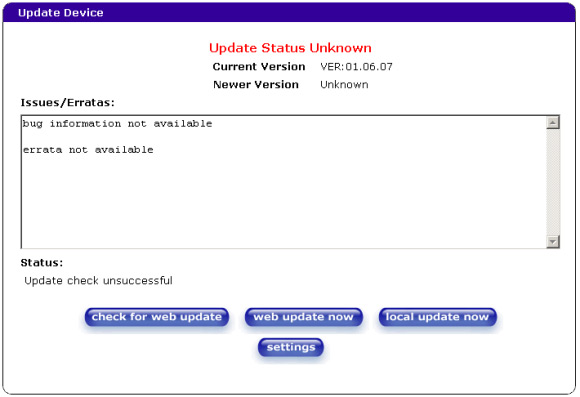 Something's not quite right... Westell?
Additional Features
DNS - the 2410 will act as a DNS relay for internal hosts, in addition to a DNS server for a specified domain name (static host assignments may be entered).
Multiple VC - A series of "Virtual Connections" (VC) may be defined. This is particularly useful if you have multiple accounts/connections with different VPI/VCI numbers (unlikely within the UK at the moment). Each entry may be enabled or disabled accordingly.
Backup/Restore - notions of a "Current Configuration" and "Backup Configuration" and options to switch between the two. Factory defaults may also be copied to the current configuration.
Statistics - a full range of stats for DSL (e.g. attenuation), wireless, Ethernet (e.g. packets send/received), USB and more are visible within the Troubleshooting section.
Remote Access - access to the web configuration pages from the outside world on port 2420 (disabled by default).
Performance & Stability
We were very satisfied with the speed and latency delivered by the router. Actual wireless speeds of 5 or 6Mbps were easily achievable when communicating with other computers on the LAN. The inbuilt Ethernet switch was capable of sustaining 100Mbps transfers between computers. No stability issues were encountered; the router was stable throughout the review.
Verdict
Competitively priced at £155 (June 2003), the WireSpeed 2410 will enable a small business or home user to connect a wide range of computers and devices via USB, Ethernet and/or 802.11b wireless (in combination) and appears to perform this task quite successfully. Westell have aimed to support as many connection methods and network configuration scenarios as possible with an array of possible NAT operating modes pleasing both a home user all the way through to a mid-sized business running a server and workstations, or a number of publicly accessible systems.
The product is primarily let down by login/security problems on the web interface allowing unauthenticated visitors to view the configuration in certain areas. Fortunately (and hopefully) these issues will be corrected in future firmware updates depending upon Westell's commitment to this specific model.
Additionally, it would be great to see popular features such as DoS protection and content filtering implemented in the future. Those who are interested in purchasing this new offering should also pay particular notice to ease of configuration (or lack of in the case of the packet filtering rules).
As a final word, the 2410 is easy to get up and running, does what it's specified to do reliably but requires a substantial knowledge of IP networking if certain settings are to be customised. Westell are in the process of producing documentation for use with the X-Box and PlayStation 2 to help console gamers get online and play against others.
---
Jeremy Ainsworth

The contents of this review should not be relied upon in making a purchasing decision - You should always discuss your requirements with your service provider and hardware supplier.