ARCHIVED CONTENT
This content is being maintained for reference purposes but is not being updated.
The FDX310 is Fujitsu's equivalent of the popular Alcatel SpeedTouch USB (a.k.a. the "slug"/"frog") supplied by BT for the majority of USB ADSL installations in the UK. This guide will show you how to get the FDX310 up and running and why I think it's the best USB modem i've used.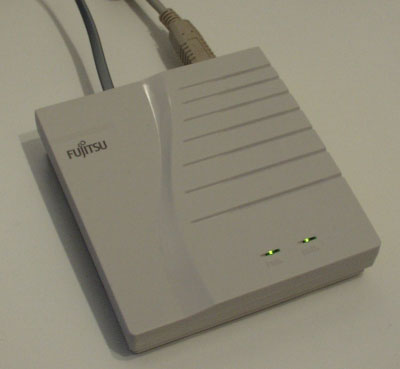 Fujitsu FDX310 Connected
Installation & Setup
The first thing to strike me was the size of the modem. It's the smallest I've seen checking in with dimensions of 10cm by 10cm by 2cm. Fujitsu are able to package these products in very small boxes which reduces delivery costs for the end user. The FDX310 is powered by the PC's USB bus and only two cables are required - the USB (obviously) and RJ-11 ADSL wire. Before connecting up, insert the CD and run through the installation process (should auto run). When you see the following message, plug the modem into a spare USB socket.


Ready to connect the FDX310 to a spare USB socket
Windows will detect and install the modem. When the usual Digital Signature notification appears (unless you've disabled these messages), click Yes.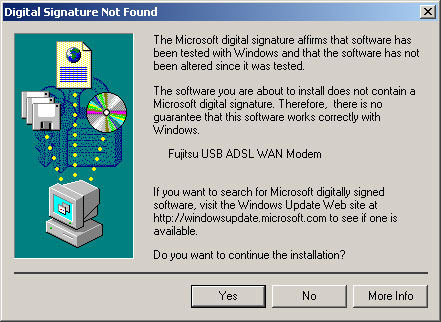 Completing the installation
The left LED ("PWR") should be on continuously, and the right ("DATA") will flash while the modem synchronises with the local exchange. The Fujitsu FDX310 comes with a remarkably familiar (see DSL-200 review) status program. There is no indication of activity on the modem itself, the LED's never flicker, and the software has two useless data activity indicators. You'll have to get a program such as DU Meter to see how fast the modem is transferring data.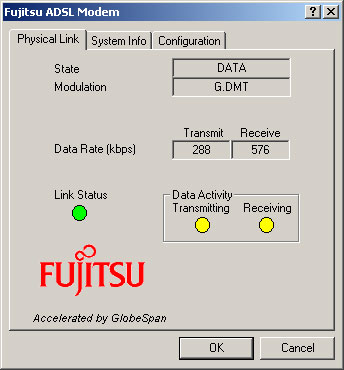 Does anything look familiar?
The installation program creates a dial up networking connection automatically. You can either edit this or create your own. Make sure you have entered 0,38 (this is the UK VPI/VCI setting) into the 'Telephone Number' field. If you leave it blank, the modem refuses to connect - this is the only "problem" I encountered.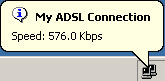 Connected to my ISP
Response times with the FDX310 were fantastic - only 15ms to my ISPs web server. This is lower than many Ethernet routers! My downloads were running full speed (60K/sec on a 512Kbps line) and after 5 days of usage, I had no stability problems.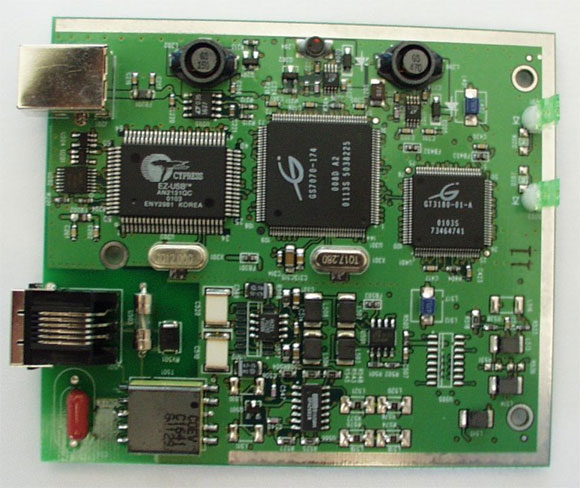 Fujitsu FDX-310 from the inside
Verdict
A price tag around the £80 mark puts the modem into number one slot for value, and in combination with performance and reliability, the FDX310 is, in my opinion, the best USB ADSL modem on the market.
Maximum Speeds:
DMT full rate downstream: up to 8Mbps

DMT full rate upstream: up to 640Kbps
---
Jeremy Ainsworth

The contents of this review should not be relied upon in making a purchasing decision—You should always discuss your requirements with your service provider and hardware supplier.