ARCHIVED CONTENT
This content is being maintained for reference purposes but is not being updated.
Netgear is well known for its consumer targeted networking hardware and the Netgear DG814 is aimed squarely at that market. The DG814 is a basic ADSL modem/router compatible with all the ISPs using the BT Wholesale ADSL service or the Kingston Communications Karoo service. The basic product specification is an ADSL modem with a NAT router, incorporating a 4-port 10/100Mbps auto-sensing Ethernet switch. This product specification sounds like so many other routers on the market, but this one is certainly not one that likes to lurk in the dark out of sight. The case design is stunning compared to most ADSL hardware - a metallic silver finish with softly curved corners - and in fact it looks more like a component from a mini HI-FI than an ADSL modem/router.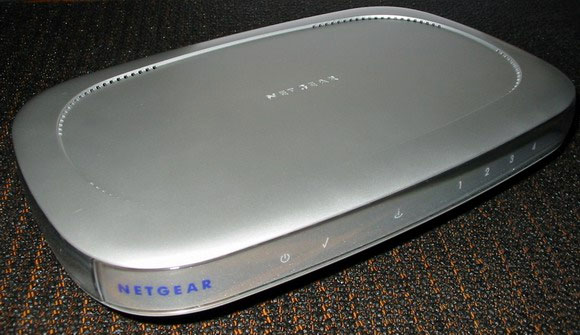 What you get for your money
Fortunately, the router is not all style and no content. It's packaged in a box that could easily grace many a PC store shelf, rather than the usual bland cardboard affairs computer kit often arrives in. Though with computer hardware, people are often more concerned with a devices functionality than the presentation.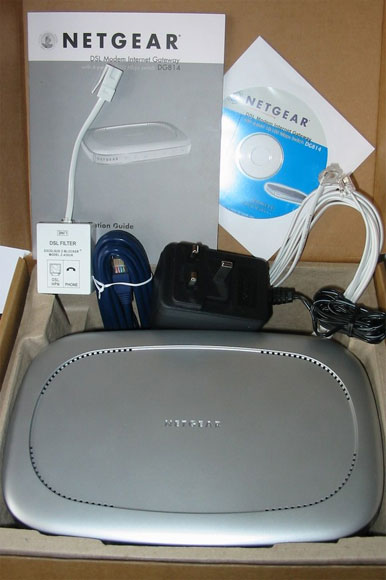 Supplied, is the router, power supply brick (18V 1Amp), RJ45 network patch cable and RJ11 lead (3m long). DSL Warehouse who supplied the modem can also provide extra long RJ-11 leads at an additional cost. The extras are an Excelsus Z-420UK microfilter, small manual, and software CD. The software CD does not include software to get the router running, but is a resource centre, providing a full manual and a quick start guide. Additionally the software CD includes the 'Freedom' software firewall, which provides firewall, anti-virus and content filtering. Finally there is a three year warranty card - simply register online once you have the router working.
The front of the router boasts no less than 7 flashing LEDs to keep you amused during the long cold winter nights. The purpose of these are Power, Test, Internet activity, and four numbered LEDs corresponding to the Ethernet 4 ports at the rear of the router.

The rear of the router features a plethora of ventilation slots, which combined with the slots on the top of the casing help to keep the router running at a nice stable temperature. Moving from left to right the router features are an on/off rocker switch, DC power supply connector, the 4 Ethernet ports (all are auto-sensing 10/100Mbps and will cope with either a patch or cross-over cable), the small round pen point sized hole next is a reset button, and finally two RJ-11 sockets. The two RJ-11 sockets are a bit unusual since you can only run one ADSL line to the router, the second socket is as a spare so you can plug a micro-filter in and run a phone from the modem as well. The small reset button took a little figuring out - to reset the router to the factory defaults, unplug everything except the power, turn the router off, depress the reset button, turn the router on and wait 10 seconds. Once this has completed you can reconnect the network cables and you will find the router running with its defaults again.
Configuration
The installation guide claims a 15 to 30 minute time for getting the router installed. Assuming you have all the kit and information to hand, installation will be a lot faster. The router uses a simple built in web interface and is able to auto detect many settings. To get online all you need to do is provide a username and password.
Following the paper based set-up guide is by far the simplest method. It walks you through where all the various plugs should go, the LED sequences when you turn the hardware on, and finally how to configure the networking for MS Windows and Mac OS 8.6 or 9.x. The network set-up could not be any easier. The router comes with DHCP enabled by default, so connect just a single computer and set its network card to obtain its TCP/IP information via DHCP and away you go.
The router has a default IP address of 192.168.0.1, and browsing to http://192.168.0.1 over the network connection accesses the web configuration. The first thing the router will ask for is a username and password - which are admin and password. The recommended way to configure the router is via the set-up wizard.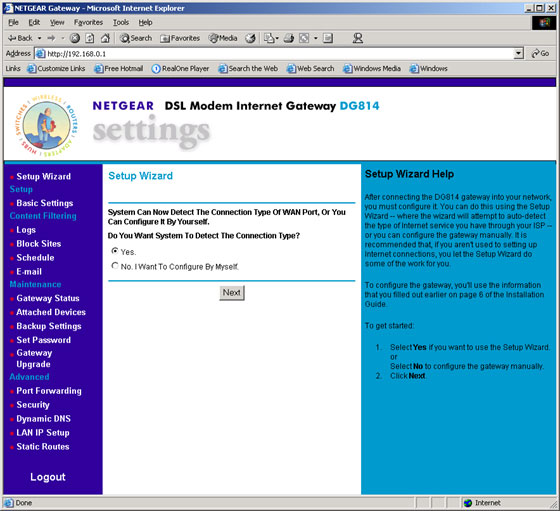 Web Interface - Setup Wizard
Pressing the Next button results in the router auto detecting a PPPoA connection and determining the standard VPI/VCI of 0/38. At this point the hardest part of the set-up is typing in your username and password. There is an Idle Timeout field which by default is set to five. Unless you want the connection dropping out on you a lot then it is recommended to set a value of zero in this field.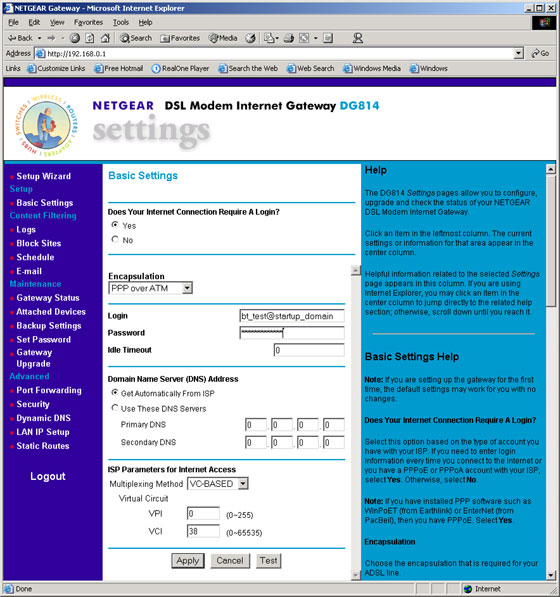 Web Interface - Basic Settings
That is it; you have succeeded in configuring an ADSL modem/router. Short of phoning your ISP for the username and password I cannot see how it can be made much easier. The Test button will launch a pop-up browser window, which if everything is working will browse to http://www.netgear.com as a confidence check that everything is working. To store the settings simply click Apply.
Advanced Configuration
This router has a few little tricks up its sleeve. Generally the next step once you've got your web browsing and email to work, is to look at the port forwarding. A lot of people will not need to worry about port forwarding at all - those people who do, run services on their local computers that are accessible from the Internet. By default a NAT router blocks unsolicited incoming traffic; port forwarding allows you to direct some traffic to specific computers, e.g. a web server or games server.
The port-forwarding configuration on the DG814 is pretty simple and almost basic, which is ideal for a device aimed at the average consumer.

Web Interface - Port Forwarding
There are two types of forwarding that can be configured:
Predefined services (for example - HTTP, FTP etc..)
Custom Services
The picture above shows this router was set to forward traffic destined towards port 25 and 80 to an internal mail/web server at 192.168.0.145, and provide additional support for a computer running Microsoft Netmeeting at 192.168.0.3. Unfortunately the number of port forwards is very limited, only 10 rules can be created, but you can forward ranges of ports, e.g. if an application requires ports 10100 to 10200 that could be done in a single rule. One strange aspect is that there is no mention of what protocol each rule supports, normally you select TCP or UDP and this would suggest the router is forwarding all protocols on that port number.
The DG814 is almost unique in that it has built-in support for content filtering, which allows you to control what websites are visible to users on your local network. The primary use is monitoring the websites that your children use. The filtering works by looking at any HTTP request that is sent via the router and if a keyword is found in the URL then the router blocks that request and returns a Page Blocked screen to the user.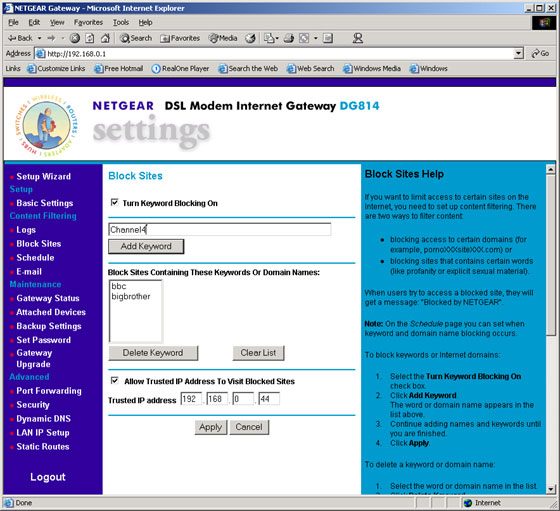 Web Interface - Content Filtering / Blocking Websites
Of course the keyword lists are only as good as you make them. Perhaps more important than the blocking is knowing which sites to actually block. To that end the router maintains a log of all websites visited. These logs can either be viewed in the routers web configuration or the router can be configured to email them to a specific account. You can choose to have the logs sent hourly, daily or weekly. Additionally, you can set a flag to allow an alert email to be sent when someone visits a blocked website. Of course all this logging and security is useless if you leave the router on its default username and password - so be warned, change to a secure password!
The router has a few other bells and whistles, for example if the 10 port forwarding rules are too restrictive you can define one machine as a DMZ. This means that the allotted computer will receive all the unsolicited TCP/IP traffic that is not already controlled by a forwarding rule. Plus for those who like to remain hidden a simple option to turn ping responses ON and OFF is available. The router has built in support for the http://www.dyndns.org website, which allows people with a dynamic IP address to have a static host name.
The router makes it easy to remember to save the settings as you change them, generally just a single click of the Apply button will permanently store settings. Additionally to make life easy with restoring lost settings, it is possible to download and upload the configuration via your computer using the Backup Settings Page.
Firmware Upgrades
During the course of the review Netgear, via DSL Warehouse, made available Version 4.4 Release Candidate 5 of the routers firmware. The upgrade process is pretty simple, select the 'Gateway Update' menu and browse to where you have previously downloaded the firmware, then click Upload. The process of uploading takes a minute or two and the router is restarted automatically once it is finished. If you have no idea which firmware you have, the version can be seen under the Gateway Status menu.
What does the V4.4 RC5 firmware give you extra? Not a lot it appears. A new Remote Management option, which allows you to make the web configuration visible to the Internet, this can be dangerous since anyone could access the router, but fortunately they allow you to restrict access to a single IP address or a range of IP addresses. The Basic Settings page has a new field under ISP Parameters, it now allows you to specify a custom MTU rather than the default of 1500, this can improve performance, since it will help to avoid fragmented packets in some circumstances. A common value for the MTU that may be worth trying is 1458.
Performance
Always a difficult area to comment on, most ADSL hardware is so close in performance terms. The standard test of 100 pings to nearest hop with the [email protected]_domain login gave an average of 10ms under Windows 2000 and 14ms in Windows XP. Under general use, the router stood up to multiple machines running various applications including handling a mail and web server. The worst aspect I found was when attempting a full server list update with the game Counter-Strike, the router would fall over and require a reset to come back to life. Routers locking up with Counter-Strike server lists are not uncommon; most people avoid this by using server listing software such as The All Seeing Eye.
The NAT with its ten rule limitation may be a bind, particularly for people who run several games that all need different port maps. Where the forwarding worked really well was the Microsoft Netmeeting support. Using two Windows XP machines and a dialup Internet connection (machine was disconnected from LAN) I was able to run video conferencing with calls originating from both the ADSL and dialup sides. The various options in Netmeeting worked well, this included the whiteboard, file send/receive and the text chat.
Verdict
The DG814 is almost the easiest router to set-up on the market. I believe it is beaten to that award by the Alcatel 510 range, though only marginally. Some people will prefer the software based initial set-up of the 510 and others the web based wizard that the DG814 has.
There are a few reports of users having problems with maintaining connections for periods of greater than 48 hours, and routers locking up. During the course of the review I did not experience any loss of connection; perhaps this is down to the specific hardware at the exchange (Fujitsu based exchange for review). The combination of port range forwarding and Netmeeting support makes the router very attractive to people who are looking for something they can just use and not worry about how it works.
To summarise the DG814 it is almost the perfect consumer ADSL modem/router, although it lacks the hardware firewall of some other models and perhaps a few 'bells and whistles'. What the DG814 does have is options that people will actually use - no point in buying kit with a firewall if it is so complex that you will never use it. In terms of the future of the router, it appears to have one, Netgear are talking of possible UPnP functionality being added via future firmware upgrades.
---
Andrew Ferguson
[email protected]
The contents of this review should not be relied upon in making a purchasing decision—You should always discuss your requirements with your service provider and hardware supplier.