Your broadband speed test result
We have tested the speed of the connection and have recorded an average download speed of:
73.91 Mbps
We have performed three tests including two separate download speed tests, and an upload speed test. You can see the results of these in the results graph below. A further detailed breakdown is displayed in the table.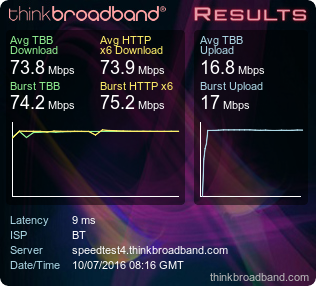 Speedtest Explanation
The download tests use both a custom 'TBB' protocol and a standard web protocol (HTTP) to help highlight variations in connection performance.

The burst speed figure shows the speed your computer and connection sustained for a short period during the test.

The Avg TBB figures use a custom socket test and equate to our older speedtest results.

The HTTP x6 test carries out six downloads at the same time to help maximise the usage on the connection.

Link to this result:
http://www.thinkbroadband.com/speedtest/results.html?id=146814207011228241811

You can give out this URL to other people to show them this speedtest result. The IP address for this result is only visible to you and will not be shown to others looking at this page.
Below you can find various link formats and code to display and share your speed test result as shown in the image / button above.
Direct Graph Button
HTML Graph Button With Link To Full Results
BBCode (for forums; not supported on thinkbroadband forums) Displaying Graphs
Small Button
A smaller button format is also available: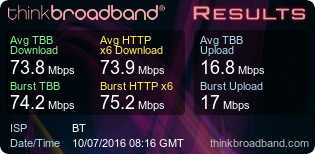 Direct Small Button
HTML Small Button With Link To Full Results
BBCode (for forums; not supported on thinkbroadband forums) With Small Display Button
---