Gigaclear begin fibre-to-the-home deployment in Hambleton
Thursday 22 September 2011 12:34:50 by John Hunt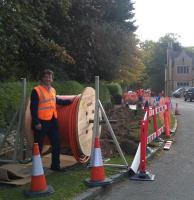 Gigaclear have started their work on delivering fibre-to-the-home (FTTH) to the Rutland village of Hambleton after Rutland Telecom announced their Hambleton deployment plans back in December 2010. The project is financed through investors from Hambleton Village, with a long-term loan secured against the network. Work has been delayed as it was initally announced that roll-out would begin in Spring 2011, however work began on the 12th of September. A fast deployment is expected with the first customers expected to be connected in early October with the entire project complete by mid October. Gigaclear are building and managing the network whilst their subsidiary, Rutland Telecom, will act as service provider.
Customers receive a Gigabit-ready router which has a fibre Gigabit network interface, 4-Gigabit Ethernet ports and wireless support up-to 300Mbps, whilst supporting both IPv4 and IPv6. The initial product offerings will see only speeds of up to 50Mbps.
"This Hambleton build is the start of the Gigaclear plan for ultrafast connection in rural communities. Our focus is national, and targeted in areas where there is a high demand for secure, high quality connections.

Gigaclear in Hambleton clearly shows that it is possible to deliver FTTH in rural areas, and it can be delivered now."

Matthew Hare, (CEO) Gigaclear
---