FRITZ!Box FON WLAN 7140 review
Friday 29 February 2008 15:00:03 by John Hunt
It's been a while since we've done any router reviews, but we have recently had the time to get working on this again, and our first review for 2008 is the FRITZ!Box Fon WLAN 7140. This 4 port router, made by AVM, features an ADSL2+ modem, wireless access point supporting 802.11g++, two port VoIP-enabled PBX and a USB port for connecting a printer, hub or USB storage device which can be accessed across the network.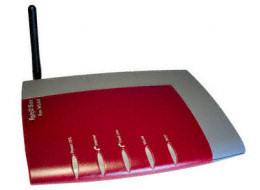 It is rare to see a router aimed at the home / small business market that features a PBX. This functionality works both with VoIP accounts that can be configured on the router and also with the phoneline that is used for your broadband connection. This allows you to use normal phones to make calls across the Internet as well as integrating more advanced features such as call diversion, call hold or conferencing to name but a few of the features.
>>> FRITZ!Box Fon WLAN 7140 review <<<
---