Future UK Internet Awards: ADSLguide - Best Site for Broadband
Monday 10 November 2003 10:38:00 by Sebastien Lahtinen
After coming in third position last year behind BBC and Heavy.com, ADSLguide has this year been crowned "Best Site for Broadband" in the Future UK Internet Awards 2003. The shortlist this year included Launch Music and the BBC. We would like to thank all the users who voted for us--Your support is appreciated.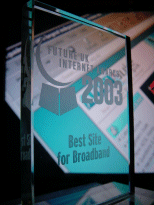 We would also like to congratulate Pipex who won the Best Consumer Broadband Provider award, NDO for taking the Best Business Broadband Provider award, and Eclipse, Nildram and Plusnet for being nominated for these two awards as well. [seb]
---