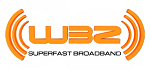 W3Z Wireless Broadband
These speeds are based on information collected from ISPs over time - In light of the new advertising standards on broadband speeds, until ISPs publish updated packages we can update, we would strongly urge you to check the product offering from the ISPs directly prior to subscribing to any service.
W3Z Wireless Broadband broadband deals can be found below in the packages section. It is the responsibility of the service provider to advise us of any changes to this data, however if you find any errors, please contact us.
ISP Details

Name
W3Z Wireless Broadband
Legal Name
W3Z Broadband Ltd
Company Type
UK Limited Company ( company number: 07136942 )
ISPA Member
Not an ISPA Member
Ofcom Code of Practice
Migration Support
None

This ISP does not support outbound migration

Rating
compare this ISP to others
Links
Homepage
Contact Details

Sales E-Mail
Sales Telephone
No phone number provided
Support E-Mail
Support Telephone
No phone number provided
Packages (based on 3 GB transfer) - incl. 20% VAT

Package Name
Speed Category
Setup Cost
red
prices indicated packages with usage based pricing (the more you download, the more it costs)
Dispute Resolution

Ofcom requires all communication providers to be a member of an Alternative Dispute Resolution (ADR) scheme. This is to allow residential and small business providers with access to a prompt and independent resolution when there is a dispute with their communications provider. CISAS and Ombudsman Services are the two approved schemes.

This ISP does not subscribe to an Ofcom approved Alternative Dispute Resolution scheme

CISAS
Ombudsman Services
Network Details

IPv6 support
Multicast support
---